In Holiday Hoopla by Dana Volney, Halle Adams is in trouble. She owns a fun eclectic gift shop called Just Dandy, but her life is anything but. Especially since her father is still trying to control her, and since he owns the building her shop is in, technically she is still under his control. Therefore, she needs to get a loan to move her shop to another place where her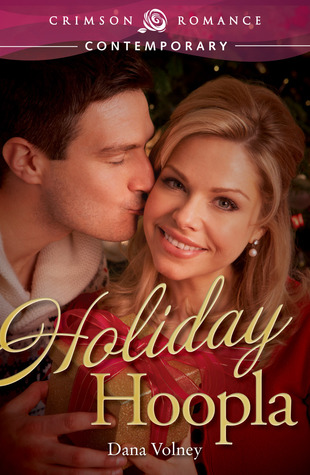 father cannot control her. Unfortunately, her loan has been declined and with her father's contacts she has trouble doing anything that he doesn't fully approve of.
Blake Ellison doesn't necessarily dislike the holiday season, but the commitments and the chase of everything bank-related and family-related are bringing him down in spirit. So when he stops by his sister's favorite store to get her a Christmas present, he is surprised that first he cannot see the clerk, and then finding her drinking wine on the job, but he sure needs a glass too. Soon he finds himself charmed by her and finds out that she is the owner and is in need of a loan, something that he can definitely help with.
Which is how Blake ends up proposing Halle be his date at all his holiday commitments and he will help her get the loan she needs. Soon they will find themselves feeling protective and jealous of the other. But what neither tells the other is the reason behind the choices they made, something that will bring trouble to them in the near future. For they will grow close during all these official commitments and the little details can change their views of the facts they knew before and put their possible relationship at risk.
For a fun, interesting and quick holiday read, don't miss Holiday Hoopla by Dana Volney.
Book Info:

December 16th 2013 by Crimson Romance
Halle Adams is in a bind. While she owns and operates a fun, eclectic gift shop, Just Dandy, her life is anything but. The family purse strings, which have a hold on her shop, have grown too tight for the independent, savvy Wyoming gal. Halle's solution is to seek funding elsewhere, but when her loan request at the bank is denied, she's left to ponder her options during what is meant to be the merriest time of the year.
The holiday season ushers in Blake Ellison, who has recently found himself promoted at work, but demoted in spirit. Blake is tired of the chase and simply wants a no-hassle, no-commitment companion to accompany him to the bank-related functions the future president is expected to attend. A chance encounter gives Blake and Halle the perfect solution: She will go with him to the myriad of holiday events and he agrees to approve her loan application.
But a barn dance, a black tie gala, and a fundraiser spark feelings of jealousy, protection, and attraction … emotions neither of them had on their holiday wish list. Will a business deal between strangers get hoodwinked by holiday hoopla?