In Holiday On Ice (Play By Play #8.5) by Jaci Burton, Stella is a professional dancer in New York, happy with the direction of her life. She is not looking for or interested in a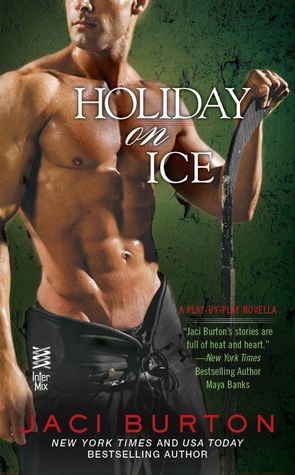 relationship with a man, she doesn't want the complications. After one relationship that ended badly, Stella is not willing to risk her heart again. She doesn't mind hooking up for some hot sex, but having nothing more suits Stella just fine.
"Trick" is a professional hockey player who Stella had a few such hook ups with. Life and careers meant they drifted apart though…with no hard feelings. When a chance meeting reignites sparks that were still smoldering, Stella and Trick take up right where they left off. As they get to know each other a little better, Trick soon finds himself wanting much more than just a sexual relationship with Stella. The more involved with Trick Stella becomes, the more her feelings for him start to grow. Stella is very careful not to give her heart away again, but Trick is determined to prove to Stella that he's the man who deserves it.
The magic of Christmas in New York with Trick slowly starts to ease the fear Stella has…but is she willing to risk her heart again?
Hot and steamy, Holiday On Ice is a quick, smooth holiday romance. I really liked Trick…he didn't push Stella, but instead did things that would prove he was the man for her. What you see is what you get with Trick, and I really liked this. He is honest and open, and I could feel through Jaci's writing how much he cared for Stella. Stella was a more difficult character to relate to. She seemed to have her life together, but what stood out was how she just couldn't let go of one bad relationship at a young age to move on in that area of her life. That issue was also somewhat anti-climatic for me, making me feel frustrated with Stella's character. Despite this, Trick and Stella really have a good connection if only Stella could emotionally mature a bit.
I liked that there wasn't a lot of angst in the actual current relationship…a little drama, but Trick's honesty goes a long way here.
I liked the female relationships Stella has…I like the strength and support these bring to Holiday On Ice. There are various other secondary characters who if you've read the other Play By Play books you will recognize, but Holiday On Ice can definitely be read as a stand alone novella. This novella is the perfect length for the story to be told.
I really like the setting of New York Jaci uses…her descriptions really bring New York at Christmas to life and it was easy to picture in my head.
I'd recommend Holiday On Ice for romance readers who are looking for a steamy, easy read Christmas novella.
Book Info:

Published November 18th 2014 by InterMix | (Play By Play #8.5)
Superstar hockey player Patrick "Trick" Niemeyer and dancer Stella Slovinski have picked up where they left off a year ago, resuming their hot, uncomplicated affair. Stella refuses to call it dating, or a relationship. But lately, Trick is looking for more…
Stella's been burned before—in a relationship she never talks about—not with her family, not with her friends, and definitely not with Trick. But now it's the holiday season and Trick is determined to give Stella his heart wrapped up in a bow. He knows Stella is the right woman for him, but he'll have to melt the ice surrounding her heart to keep her from walking away.