In Home to the Cowboy by Amanda Renee, Tess Dalton is back home to help her mom with a wedding and to forget her recent heartbreak and loosing her job. She had hoped to be able to think things in her own time without having the reminder of how she was dumped by her fiancé only to find out that everyone in town knows about every detail.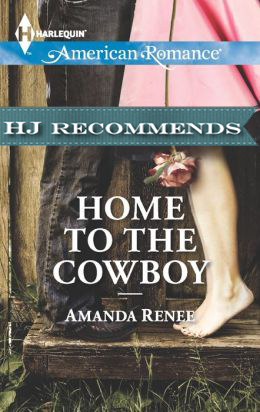 Cole Langtry is working hard to make his now deceased father's dream of building an equine-assisted therapy facility on Bridle Dance Ranch come true. But when his father changed his will before his death leaving the land to his wife and the farm split into equal part between Cole and his brothers it created a problem. Cole and one of his brothers are for continuing with their father's dream, while his other two brothers want to make a profit, not build something that will not give them any profit. Without all of them or at least the majority agreeing the facility cannot be built.
Now that Tess is back, meeting with Cole is not easy. They used to be best friends but when they took things to the next level she was afraid that the long distance relationship would not work very well with her working in the city and him joining the rodeo. But the problem that arose was the rodeo bunnies showing up topless and propositioning Cole in front of Tess, something that she took as his possible infidelity since he knew them all too well and that eventually lead to led arguments and their breakup.
But Cole and Tess come together more often thanks to their interfering mothers who are friends, and slowly start to build on the friendship they used to have. But the one person that will bring them together is Ever, the little girl that was the one responsible for creating the dream of building an equine-assisted therapy facility. Ever with her strength and determination regardless of all the problems she's had since she was born and then abandoned, shows Tess what truly matters.
In order for Tess and Cole to have their happily ever after they will have to lay all their cards on the table and tell each other how they truly feel and what really matter before they loose all of their dreams to unimportant details.
Don't miss Home to the Cowboy by Amanda Renee, romantic and heartbreaking, but oh so very sweet story.
Book Info

Publication Date: August 6, 2013 | Series: Harlequin American Romance (Book 1464)
Her Heart Never LeftIt seems as if all of Ramblewood, Texas, is far too up-to-date on Tess Dalton's love life, or rather, recent lack thereof. She thought the trip home would help heal her heart—instead it just put her face-to-face with the first man to crush it.
Cole Langtry is determined to fulfill his father's dream of building an equine-assisted therapy facility on Bridle Dance Ranch. He doesn't have time for distractions, especially of the heartbreaking brunette variety. What he and Tess once had should stay in the past.
But when one remarkable little girl finally brings Tess and Cole together, it's hard to remember why they're apart. They've never backed down from a challenge before, but facing their true feelings for each other might be the ultimate test.