Spellbound Falls really is a magical place! In The Heart of a Hero (Spellbound Falls Series #4) by Janet Chapman,  Julia is working hard at Nova Mare, putting money away to send her younger sister off to university, when they will both finally be free. She is also burdened with living with a drunk and abusive father, and the unearned reputation as the town slut, thanks to her ex husband. Needless to say, her self esteem has taken a blow!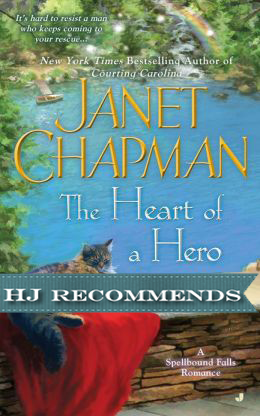 Nicholas has been Carolina Oceanus' bodyguard for the past 30 years. Now that she's getting married, he is ready to settle down himself. A warrior and protector through time, Nicholas is now a security expert at Nova Mare. He is also the apple of every single woman's eye…but he has found no one who interests him, as much as he'd like to settle down. Then Nicholas sees Julia…and with one kiss his protective instincts rush to the surface. He not only soon finds himself looking out for Julia, but the more Julia tries to avoid Nicholas, the more determined Nicholas is to see Julia again.
Julia is humiliated that Nicholas has seen her at her worse, seen where she comes from and how little she has. She can't avoid him forever though, and even though she doesn't think she needs a hero, Nicholas is going to be hers…that's just the way he is. Suddenly Julia's life as she's known it is changing rapidly, and Nicholas always seems to be there. They spend more time together and Julia is just as attracted to Nicholas as he is to her…but she identifies herself by her father and ex husband, and has no desire to start a relationship with Nicholas. Nicholas sees her for more than this though, and between him and her friends, they push her outside of her comfort zone to recognize the good in her, and do what makes her happy.
When Julia has a surprise for Nicholas, he's called away to duty before she can tell him. At the same time, the strange things have been happening defy logical explanation, and Julia begins to put the magical puzzle pieces together. When he returns it will be Nicholas that needs Julia this time to save him. Can Julia accept who he is and risk her heart on a future together?
Julia and Nicholas are a great couple! Putting aside the magic, they are a very like-able and real couple. Julia is independent, has goals, and will not be bossed around by Nicholas! She is insecure though, and as quickly as she is revelling in her sexuality with Nicholas she's sneaking out the bathroom window! OK, that was a bit weird for a grown woman, but it added to the humor of The Heart of a Hero. Nicholas is just the man for her if she can let him past her barriers. He's sensitive, protective, strong, and he is ready settle down and start his own family. He'd love for that to be with Julia…in fact, he knows it will be, but she's going to have to come to terms with herself and Nicholas if they are to move forward together.
The magical part of The Heart of a Hero just makes the story even better. There is magic in true love and a true hero in Nicholas. I really enjoyed how Janet wove the magic with the romance and bits of mystery. She makes it all so believable, she makes you believe in magic and see the possiblity of magic around you…however you see it.
The Heart of a Hero is a wonderful story filled with small town people, magic, pets, and the hope of true love.
Book Info

Publisher: JoveRelease date: March 5, 2013 | Series: A Spellbound Falls Romance (Book 4)
New York Times bestselling author Janet Chapman welcomes her fans back to Spellbound Falls, where no one is immune to the magical powers of love…
Originally from the ancient mythical island of Atlantis, Nicholas has spent the last year deep in the mountains of Maine, serving as Director of Security for the Nova Mare and Inglenook resorts. Fully embracing his life in the twenty-first century, he finds himself irresistibly drawn to a trouble-prone employee, and is determined to keep her safe.
The last thing Julia Campbell needs is a man with a hero complex, especially one as handsome and imposing as Nicholas. All she has to do is keep it together until her younger sister turns eighteen, and then she can focus on her own life. But strange things have been happening at the resort—and it's Nicholas who keeps coming to her rescue. When Nicholas is suddenly the one in trouble, Julia realizes he's not quite what he seems—and that she'll do anything to help the man who's stolen her heart…