Hooking Up by Helena Hunting: Amie is horrified, humiliated, and embarrassed to have her marriage fall apart only hours after saying 'I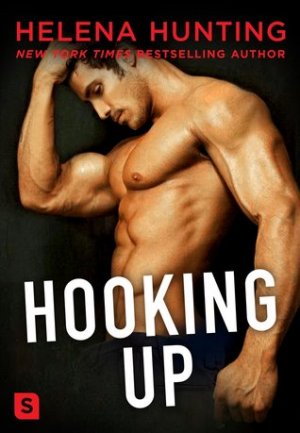 do.' She thought she had finally picked the right guy after years of always dating the wrong guys. To escape the scandal and her faithless and unapologetic husband, she goes on their honeymoon to Bora Bora. She needs distance and plenty of alcohol before she can start putting her life back together.
Lex is outraged on Amie's behalf by the actions of his own cousin. There's no love lost between them, but Lex wanted Armstrong to be better so that Amie would be happy. He's the charming, fun loving, sexy, and playful cousin who puts family first. Knowing the drama about to ensue, he heads to Bora Bora to check in on the family resorts.
Both are surprised to run into each other at the airport before heading to the island paradise. Amie struggles to face him after the events at her reception and then the airport, but Lex is a gentlemen and quite helpful. Lex can't quite help himself from flirting, despite the situation.
"And if you're bored while you're working on your tan, or you need any assistance with that treasure chest in your carry-on, I'm more than happy to lend a hand with that, too. Both, actually."
And we're back to flirting. "Is that right?"
Lex is more than willing to help out Amie in whatever ways she needs, including an island fling where no one has to know. But their fling is more than just sex and both struggle with their feelings when they're back in New York. They can't avoid each other, even if they wanted to, but Amie's still married.
"I don't know what we're doing."
He drags gentle fingers down my cheek. "Well, I guess that depends."
"On."
"On what you want."
Hooking Up is hot, sexy, and fun. Helena Hunting provides heat, humor, banter, rivalries, and family drama. Ms. Hunting shows another side to Amie and Lex in this standalone set in the same world as Shacking Up. Fans of Sawyer Bennett, Jaci Burton, and Sydney Logan will love Hooking Up.

Book Info:

Publication: November 7th 2017 | Swerve |
Amalie Whitfield is the picture of a blushing bride during her wedding reception–but for all the wrong reasons. Instead of proclaiming his undying love, her husband can be heard, by Amalie and their guests, getting off with someone else. She has every reason to freak out, and in a moment of insanity, she throws herself at the first hot-blooded male she sees. But he's not interested in becoming her revenge screw.
Mortified and desperate to escape the post-wedding drama, Amalie decides to go on her honeymoon alone, only to find the man who rejected her also heading to the same tiny island for work. But this time he isn't holding back. She should know better than to sleep with someone she knows, but she can't seem to resist him.
They might agree that what happens on the island should stay on the island, but neither one can deny that their attraction is more than just physical.
Filled with hilariously scandalous situations and enough sexual chemistry to power an airplane from New York City to the South Pacific, Hooking Up is the next standalone, laugh-out-loud romantic comedy from Helena Hunting, the New York Times bestselling author of the Pucked series and Shacking Up.