In Hostage to Love by Maya Blake, Belle is a teacher in a mission group in Africa. When she and some others are kidnapped, Belle is not sure how or if she's going to get out alive. The rebel leader knows Belle's try identity and has decided that Belle will be his.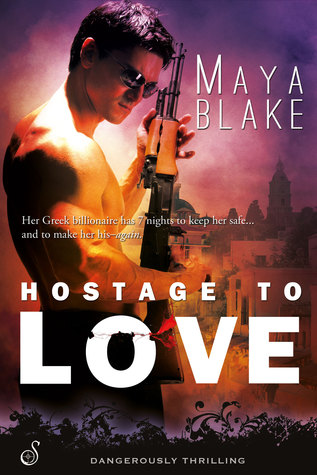 The last person Belle expects to come to her rescue is the husband she left six months ago! With his contacts and his money, Greek billionaire Nick has no qualms about coming to the African jungle to save Belle. Despite continuing on in Belle's absence with what was expected of him, Nick has never been able to understand why Belle left…nor is he even remotely over her.
When Nick takes Belle to his isolated to recover from her ordeal, despite her wanting to go back to her own home, he is determined not to lose Belle again. With a lack of communication up to now in their whirl wind courtship and marriage, is there any chance they can make it work? Belle wants to be Belle, not just an extension of Nick…can they break down the walls before it's too late? Because danger is still creeping up on them, and some things shouldn't wait to be told.
Nick and Belle are both strong, somewhat stubborn people. They have very strong chemistry together that Belle will try to fight so she can keep her wits about her when she's around Nick. Nick is not afraid to go after what he wants…and what he wants is to keep Belle safe and have her back as his wife. It seemed to me like it was the chemistry that brought them together, but after that they had trouble. As I read Hostage to Love, I could see that both Belle and Nick belonged to each other in their hearts, if only they can open up the lines of communication, trust in themselves and each other. They both have a lot to offer!
Maya gives us a fast paced, romantic adventure in Hostage to Love. I found the relationship between Belle and Nick to be the focal point of Hostage to Love, and how they will work through their issues (because they both have them!) to try to come together under very stressful and dicey circumstances. The dangers they face will have to be dealt with before they can truly try to move on.
Maya's descriptives of the Greek island and the waters surrounding it where Belle and Nick were staying were so perfect I felt like throwing on my suit and going for a swim! Maya brings Belle and Nick to life with their usually steamy, sometimes funny, sometimes poignant, and always based on love, interactions. As frustrating as the lack of communication was for me as a reader, I can see this happening in real life. People hear what they want to hear. Belle and Nick, like anyone else, will have to listen with an open mind to each other if they want their happily ever after.
I would have liked a little more about the actual kidnapping, the motives, why, how Belle caught the rebel leader's eye, etc. That was the only piece that was missing in Hostage to Love for me.
I'd recommend Hostage to Love to any romance leader looking for some heat in a gorgeous setting, along with the suspenseful drama that will keep you guessing!
Book Info:

Published July 8th 2013 by Entangled: Suspense (first published June 16th 2009)
On an idyllic Greek island, danger surfaces…and passion re-ignites.
During a charity mission to a war-torn African country, Belle Jones is kidnapped by the vicious rebel leader determined to make her his. Belle's estranged husband, Greek billionaire Nick Andreakos, stages a daring rescue, saving her from the horror.
To hide her from the obsessed kidnapper—and to repair their broken relationship—Nick whisks Belle away to his private island paradise. But she still won't put up with his controlling ways…even if she's still defenseless against their scorching-hot chemistry. With the brutal killer hot on their heels, Nick knows he must earn Belle's trust again—and fast. Even if it means risking everything. And losing his heart forever.