In A Little Too Far by Lisa Desrochers, Relationships are tough enough to deal with, but for college student Lexi Banks, they just keep growing more complicated by the moment. Fresh on the heels of a recent breakup, she shares her sorrows with her step-brother Trent like she always does. But then the unthinkable happens–they sleep together. Lexi has always had feelings for Trent but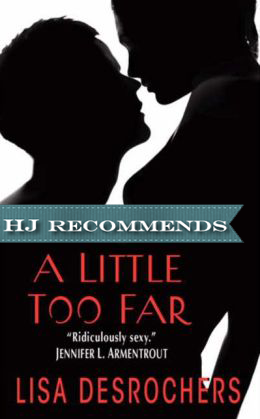 has obviously never acted on them because, well, they're step-siblings for one, and because she is determined not to lose the closest friend she's ever had.
I feel like, in a moment of weakness, I traded my only real friend for a few minutes of gratification. But, God, were they gratifying.'
Things become awkward between them so Lexi hopes the time she will spend in Rome at art school will allow them to get back to the way they were. She embraces her new freedom in Italy and meets some interesting people, one of them being a soon-to-be-ordained priest, Alessandro. Lexi works with him on an art project for children and they grow to be close friends. She would have to be blind to not be attracted to Alessandro and she soon has mixed feelings. Is he flirting with her or is she just over-thinking things? Lexi is even more confused as her year abroad comes to a close and it's up to her to make some tough life decisions.
'You picked me up and helped me heal,
You taught me what it meant to feel.
Now I can, now I do, and everything I feel is you.
I would never do you wrong,
or let you down or lead you on.
I can't stop now, I'll come unglued,
when everything I feel is you.'
A Little Too Far is a deeply emotional and brutally honest New Adult novel written as a narrative. It's fraught with sexual tension and moments of self-revelation with just a touch of angst (but not too much). I really enjoyed Lisa's writing style as she incorporated a sense of self-deprecating humor into the story. I found it made the subject matter, which may seem a bit taboo to some, much easier to handle.
Our protagonist Lexi is not only struggling with the specific direction her life should take as she nears the last half of her college career, but she is also dealing with her feelings for two equally wonderful guys. Trent, her step-brother, has become her best friend, and they have always been extremely close. I loved how he could calm her down by singing to her and playing his guitar. Lexi alone knows how important his music is to him and it becomes a great communicator between them.
The situation with Alessandro is just as complex. The idea of man who is just weeks from becoming an ordained priest and who has taken a vow of celibacy rethinking his path to pursue his feelings for a young woman is a bit extreme. However, given the situation both Alessandro and Lexi find themselves in, it felt plausible.
A Little Too Far is an intriguing, sexy New Adult novel that pushes the boundaries. The love scenes are hot, Hot, HOT and the setting in Italy couldn't be more perfect for a young woman finding her way in the world. Highly recommended!
Book Info:

Published September 17th 2013 by HarperCollins
Have you ever gone just a little too far?
Lexie Banks has.
Yep. She just had mind-blowing sex with her stepbrother. In her defense, she was on the rebound, and it's more of a my-dad-happened-to-marry-a-woman-with-a-super-hot-son situation. But still, he's been her best friend and confidant for the better part of the last few years … and is so off limits. It's a good thing she's leaving in two days for a year abroad in Rome.
But even thousands of miles away, Lexie can't seem to escape trouble. Raised Catholic, she goes to confession in hopes of alleviating some of her guilt … and maybe not burning in hell. Instead, she stumbles out of the confessional and right into Alessandro Moretti, a young and very easy-on-the-eyes deacon … only eight months away from becoming a priest. Lexie and Alessandro grow closer, and when Alessandro's signals start changing despite his vow of celibacy, she doesn't know what to think. She's torn between falling in love with the man she shouldn't want and the man she can't have. And she isn't sure how she can live with herself either way.