Hot Christmas Kisses by Joss Wood is a sexy holiday themed romance between two casual lovers who find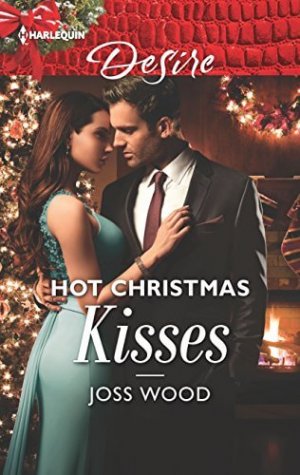 it's time to take their relationship to the next level or risk losing it all.
Dylan-Jane 'DJ' Winston and Matt Edwards have been having an affair for the last seven years. It's the kind of fling where they get together a few times a year for some sexy fun, with the caveat that if either of them gets involved with someone else, they'll call it quits. For a couple who like to keep their emotions in check, it's been the perfect arrangement. But something has changed. DJ stopped responding to Matt's calls after their last hookup the previous Christmas. Now Matt has come to Boston where DJ lives for the upcoming holidays and he wants some answers.
DJ never told Matt that after their last time together, she'd gotten pregnant, and miscarried at six weeks. It left her depressed for several months, and no longer interested in a casual fling. Matt's arrival has reluctantly made her confess the situation to him, which he struggles to accept. Matt's recently discovered that a girl he dated in high school had his baby (after telling him she'd miscarried and moving away) and gave her up for adoption. The young woman, now 18 has contacted Matt and is one of the reasons he's come to Boston, besides wanting to restart the status quo with DJ. Spending more than a few days together makes Matt and DJ realize that they can't go back to what they had. But are they ready to move forward together or should they call it quits for good?
This is a sexy and emotional romance with two people who have valid reasons for being wary of intimacy. Matt grew up with addict parents who shoved him on his grandparents as a teenager, an older couple who were not ready for the reality of a troubled teen living with them. He'd thought the girl he loved in high school would give him the family he wanted, but learned the hard way that love means heartbreak.
DJ had a father who left her as a young child at Christmas time, making the holidays especially difficult for her. On top of that, her mother is a narcissist who never gave DJ the attention or love she deserved, and still treats her shamefully when they infrequently get together. She too learned that it's better to keep her heart protected. They make a fine pair of damaged souls who can find solace in each other, if they'll just open up their hearts to love. It's DJ who is willing to risk herself first, and Matt who finds himself realizing that he's going to lose her if he doesn't make that scary step towards commitment.
DJ has a surrogate family, her two best friends Darcy and Jules Brogan with whom she runs a design company. Their mother Callie has been a second mom to DJ, a real mom, and there are several emotional scenes with them all as DJ decides that she needs to open up to her friends and let them support her in return. In the previous book in the series, Friendship on Fire (Jules' story), Callie was starting up a romance with hot coffee bar owner Mason. Their romance continues in this story as an extra perk but isn't finished yet, so I expect the next in the series to have more of them as well as Darby's romance. Matt and DJ share numerous sexy scenes but it's the emotional connection they are building that leads to their true happy ending. The Love in Boston series has been a delightful read so far and I'm looking forward to more!
Book Info:

Publication: Oct 01, 2018 | Harlequin Desire | Love in Boston #2
"You're my escape. Just a temporary indulgence." But Christmas has a way of changing things…
On and then off again, Matt Edwards and DJ Winston share hot sex, hotel rooms–and nothing else. But now Matt is suddenly in DJ's real life, where she's not sentimental about anything–not her lovers or the holidays. Just one hot kiss has them back in bed… Will Christmas magic turn their fantasy into forever?