One Dark Night by Tom Bale: A reckless driver sparks a touch of road rage in Adam, who simply must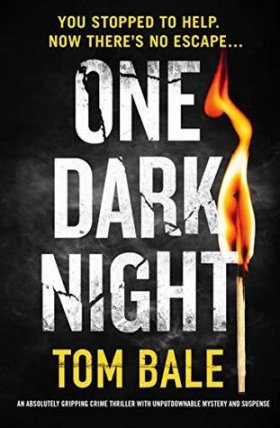 confront the driver after he causes some minor damage to his car. However, it soon becomes apparent that he has interrupted a kidnapping in progress, when a woman in the other car begins screaming for help. In short order Adam finds himself, and his entire family also being held captive.
A tense cat and mouse cat game ensues, as Adam and his wife, Katy, urgently seek to escape with their family intact, against all odds. But, they also question the initial kidnap victim, a woman named Carole, who may have gotten herself involved in international intrigue, meaning they aren't dealing with common everyday thugs. Can Adam find a way to save his family?
This is a very action packed, high-octane thriller. The author certainly knows how to create a taut scenario and ratchet up the suspense to a fever pitch. However, there is also a fair amount of family drama, which also adds a separate, but equally compelling level of suspicion and unease.
The problem for many readers will be the required suspension of belief, because the plot, despite some pretty sick twists, does get a bit outlandish. The ultimate source of danger remains a bit too vague and shadowy, and the full motives behind the crime is all bit murky.
However, despite some rough patches, this is still a solid thrill ride and will keep readers on the edge of their seats from start to finish.
Book Info:

Publication: 10/23/18 | Bookouture |
He sees his wife's eyes watching him in the rear-view mirror, the kids up on their knees to get a better look. That's when he hears the scream…
You're driving home from a family outing one afternoon, when a speeding car cuts you up, nearly causing you to crash. Like anyone would, you pull over to confront the driver.
But a glance into the backseat of the speeding car reveals a woman fighting to escape. She is terrified and she's screaming for your help: these men have murdered her husband…
What would you do?