Hot Copy by Ruby Barrett: A few months after his mother's passing, Wesley Chambers begins the internship he was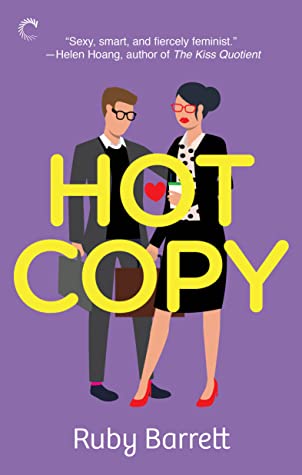 awarded two years prior but couldn't accept given his priority became caring for his mother as she deteriorated from ovarian cancer. At the time, he was set to begin with Richard, the CEO of Hill City and respected colleague of his loser father. As it turns out, the mentor has changed in two years and Wes has been placed with Corinne Blunt, a high achieving young woman who is often the butt of sexist commentary and snide remarks because she dares to be ambitious and work hard – harder than most her male counterparts it appears.
After a misunderstanding that occurs in the elevator on his first day, Corinne responds quite punitively to Wes for his first couple of weeks until it is clear that he isn't the man she thinks he is, and a rogue kiss at the company's softball practice shifts their relationship entirely.
As Wes struggles to pick up his life where he left it 2 years prior, including trusting his friendships, the complications at work hit an all time high when he is forced to keep his feelings for Corinne and their raunchy affair secret. Sadly for Corinne, her mother is similarly diagnosed with cancer and simultaneously she is forced to contend with an ever increasing volatile workplace as it is clear Richard is never going to award her for her work and talents unless she submits to his gross sexual overtures.
Written from a dual perspective, we get a deep view into both Wes and Corinne's internal motivations that underpin both characters and give insight into the experiences that have moulded who they are. Wes was a gentle soul, whose loss of his mother changed the way he viewed and interacted with the world, and it is evident from the onset that his values were shaped by her and via the sibling relationship he had with his twin Amy.
Similarly, it is clear Corinne's world is shaped by the ongoing challenges she faces in the corporate setting. Barrett paints a pretty rough picture that likely isn't inspiring for young women whose talent and ambition is leading them in a leadership direction, suggesting that if you're are excellent at what you do, it still somehow needs to be on a man's terms and if not, a man will no doubt still have control of your success. As a result, Corinne initially comes off as pretty hard-nosed and petty, however, as the novel progresses, there are very real reasons for her behaviours and her clandestine relationship with Wes complicates things for her all the more.
Quite successfully, Barrett manages to balance some playful and raunchy scenes with a clear statement on the enduring nature of the patriarchy in the workplace, in that when a woman behaves like a man she is subject to offensive name calling, and when she doesn't, she is subject to sexual harassment. Either way, she just needs to suck that up and be a team player!
Overall, Hot Copy successfully steams up the windows with its spicy love affair and the rage felt due to the inequities that still somehow exist in the 21st century. Undoubtedly you will want Wes and Corinne to navigate the complications together and find a HEA that doesn't compromise their careers or their personal integrity – because frankly, why should it?

Book Info:

Publication: 13th April 2021 | Carina Press |
Corinne Blunt knows what people think of her—she's an icy, unapproachable executive. It's the price she's had to pay to get to the top. But there's knowing you have a reputation in the office, and there's hearing your new intern laugh when someone calls you "Blunt the C*nt" in the elevator on his first day.
She'd hoped to finally find an ally in Wesley Chambers, but she's not about to let him off the hook for joining the office boys' club. Taking refuge in the professional boundaries between them, she relegates Wes to assistant work—which would do the trick, if he weren't so eager to prove he's a decent human being.
Wes is sincerely apologetic, insisting it was a misunderstanding, and to her surprise, Corinne believes him. Being forced to work together was one thing, but long hours at the office with what turns out to be a kind, thoughtful man soon has their business relationship turning personal, and things get complicated—fast. Could this be something more serious than either of them dared to hope for? Or is their relationship just playing into the harmful power dynamics Corinne's had to endure her entire career?