Hot Holiday Fling by Joss Wood is a Christmas themed romance for two people intent on staying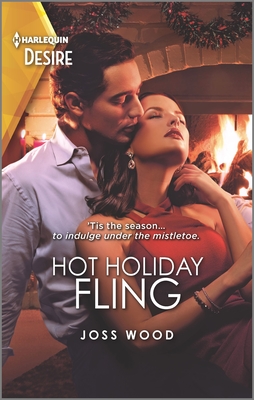 commitment free who discover being together is worth the risk.
Adie Ashby-Tate is a woman whose family is part of high society but has a cold relationship with her parents. She's taken her talents and connections and made herself a concierge to the rich and famous – whatever they want, she can get. She's decided to bring her company to New York City over the holidays to expand her territory and avoid thinking about being alone at Christmas. At an indoor market to display her wares, she meets a handsome stranger who makes her throw caution to the winds and almost end up spending the night with him. At the last minute she comes to her senses but the next day, she discovers he's the man she'd hoped to add to her list of clients.
Hunter Sheridan was certainly intrigued by Adie at the market but he'd had the advantage of knowing exactly who she was. Now that they're both on the same page, he can admit that he wishes they'd taken things all the way. With his own executive assistant away on an emergency call, he needs someone to help him with last minute holiday preparations and Adie is just the person for the job. Working together means they can't deny the attraction between them, leading to a steamy fling. But can two commitment-phobes find the courage to go all in ?
I really enjoyed this story! Adie and Hunter both have emotionally troubled pasts stemming from their parents. Adie's mother blamed Adie's birth for the ruin of her marriage when her husband, Adie's father, strayed to mistresses and Hunt had a drug addicted mother that left him in the foster system. Also Hunt's best friend and business partner Steve (who happens to be the sister of Adie's best friend Kate) had died tragically several years either. For both of them, their experiences have taught them that it's better not to rely on other people and that love just ends in heartbreak. So the holiday season is normally a lonely time for them both.
But together, Adie and Hunt discover that maybe they've been wrong. Besides the attraction that leads to some sexy times together, they also begin to share some of their secrets and painful pasts with each other, leading to deeper feelings. As Adie's time in New York comes to a close, they both have to decide if ending things is really what they want. I enjoyed the setting, the characters, and the holiday spirit. Plus there's a fun scene where Adie and Hunt engage in a run across the city for charity (kind of an Amazing Race scavenger hunt idea). If you're looking for a sexy holiday romance, this one is definitely worth the read!
Book Info:

Publication: Dec 01, 2020 | Harlequin Desire |
A Christmas fling makes the perfect gift
for the bachelor who has everything…
Sparks fly the moment Adie Ashby-Tate and Hunt Sheridan meet. Too bad Hunt doesn't do relationships. But career-minded Adie, working with him to boost her business, is too tempting for the millionaire influencer to resist. When she agrees to a no-strings tryst, he jumps at the chance. The only rule: no commitment. But the Christmas spirit might change all the rules…