Hot Nashville Nights by Sheri Whitefeather: Songwriter Spencer Riggs and stylist Alice McKenzie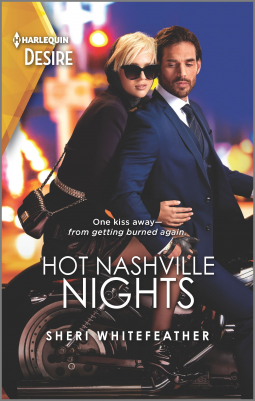 have not seen each other for five years. She was considered a wild child back then and he called her for late night drunken hookups.
Since that time Alice has settled down and is successful in her career. Spencer is sober thanks to his mentor Kirby. Kirby recommends Alice to Spencer to act as a stylist for his upcoming magazine photoshoot. Both Alice and Spencer believe they can be professional and get beyond their past. They both feel renewed sparks, but Alice doesn't want things to be like they were back then.
It doesn't help that Spencer is very close to Kirby. Alice blames Kirby for much of her songwriter mother's issues in the years before she died. Alice's sister is married to one of Kirby's sons, but Alice does not join in events for that clan.
I always love second chance stories. Who doesn't deserve a second chance among us? Sheri Whitefeather has written characters that have pasts with some bad choices and difficult circumstances. The reader can truly empathize with them as more is revealed. Alice is waiting for the man who will be a good husband. She is not at all sure that Spencer could ever be that person.
As the title implies, this novel is set in Nashville. Since that city is filled with music and nightlife, it lends even more of sensuous atmosphere to the story. I look forward to visiting there again someday soon.

I highly recommend this tale to warm up your day and uplift your spirits.
Book Info:

Publication: June 1, 2020 | Harlequin Desire | Daughters of Country
One kiss away—
from getting burned again.
I'm about to reunite with the lover from my past…
But this time it's strictly business!
My career is taking off, thanks to my latest gig: cleaning up the image of one of Nashville's hottest stars. The trouble is, songwriter Spencer Riggs and I were once lovers. I'm not the wild Alice McKenzie I was five years ago, but we can't keep a lid on our reigniting desire. And there's something Spencer isn't telling me…