In House of Scarlett (Legend Trilogy #2) by Meghan March, Scarlett Priest's world has been in an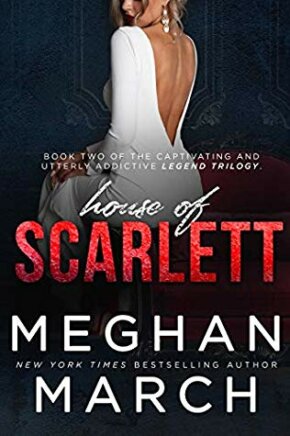 upheaval lately. The biggest source of drama is handsome bad boy Gabriel Legend, a night club owner and former MMA fighter who has shown Scarlett just what desire truly means. Now that she's had a taste of it, she doesn't know if she can let go. But as Legend tries to prove he's the guy Scarlett should be with, people in their two very different worlds set out to make things even more difficult for the new couple. And before they realize what's happening, they're in for the fight of their lives.
"You may not think you're a good guy, but I believe you're a good man with strong principles and loyalty that runs deep."
House of Scarlett was an emotionally-packed second book in the Legend Trilogy. Seductive, thrilling, and so good you won't want to put it down, Meghan March pulled out all the stops in this dramatic romance.
"You got to a part of me that I thought was dead and gone forever. It's not, though. It was just waiting for you."
Book two in the Legend Trilogy was every bit as engaging–and sexy!!–as the first book. There were a lot of ups and downs for Scarlett and Legend this time but we also got to see them in some very poignant moments which showed us their true character. Legend was still struggling to balance his drive to succeed while feeling somewhat inadequate after his horrible childhood. (Which we learned more about and will tear your heart out…) Legend thought he wasn't good enough for Scarlett based on the decadent world she grew up in. But he proved he had a heart of gold at the same time as figuring out that she was one of the most down-to-earth people you could meet. Fashion heiress or not.
Scarlett had her own personal and family woes to handle. We saw how much of a toll it took on her physically and emotionally on a daily basis. She learned the hard way that someone's actions, not their wealth, was what made them a good person or not. Through it all, though, Scarlett proved she had the inner strength to stand up for herself (and Legend) but without losing her kindness or compassionate nature. We even got to see some sweet, playful moments between Scarlett and Legend that will surely make readers smile–and even swoon!
The stakes keep getting higher and higher with each new book in the Legend Trilogy as our couple forges a bond they hope will last forever. How they'll get through the shocking situation they found themselves in at the end of House of Scarlett remains to be seen. But I'm sure the conclusion, The Fight for Forever, will give them a HEA worth all their struggles.
Book Info:

Publication: December 10th 2019 | Meghan March LLC | Legend Trilogy #2
The utterly addictive Legend Trilogy continues in House of Scarlett .
Gabriel Legend is unlike any other man I've ever met.
He came into my life like a hurricane, shattering all my assumptions and preconceived notions.
I wasn't prepared for him. I wasn't prepared for any of it.
But life doesn't wait until you're ready.
Whatever happens next, I know one thing for certain.
I will never be the same Scarlett I was before I met him.
House of Scarlett is the second book in the Legend Trilogy and should be read after The Fall of Legend, book one in the utterly addictive Legend Trilogy.