In How the Cowboy Was Won (Cupid, Texas #6) by Lori Wilde, Real estate agent Ember Alzate can't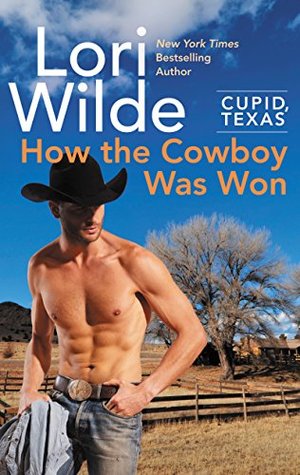 wait until her best friend in the universe, scientist Ranger Lockhart, returns home to Texas after a year away In New Zealand. She's immensely proud of him for getting his doctorate. But she's ready to have Ranger back in Cupid so things can get back to normal again. Somehow, though, when Ember sets eyes on her life-long BFF she feels a spark of attraction. And that just can't be right. She's never really felt that way about Ranger before. But sure enough she can't get his handsome face out of her head. The solution? Find him the perfect woman. One who can keep Ranger on track–he has a habit of forgetfulness–and who will help with the more social aspects of his career. Sounds like a solid plan until Ember realizes she's jealous of everyone she sets Ranger up with. When it comes to her best friend, she's slowly realizing that her heart is much more involved than she ever could have dreamed.
'What was wrong with her? Why this immense and undeniable sexual attraction to her best friend? It was wrong. It should be taboo, and yet, and yet… God, how she wanted him in every way possible.'
Astrobiologist Ranger Lockhart has tried to push his true, romantic feelings for Ember aside for years. Since they were teenagers, basically. A year apart only made him realize that he's ready to take the next step and see if she feels the same way. But his Ember, feisty and stubborn as all get-out, isn't going to admit her feelings for him easily. Ranger knows he's going to have to plan things out just right and take it slow so he won't scare her off. With his career in high gear, he tries to make it clear to Ember that he's not interested in the women she keeps matching him up with at every turn. For such a smart woman, she's not picking up the clues that Ranger is dropping her way. So he's somehow got to find a way to help her realize the real feelings between them before it's too late.
"What am I going to do with you?"
"Nothing," she whispered almost inaudibly, "everything."
She winked at him, saucy and daring. He loved that wink. He *dreamed* about that wink.
How the Cowboy Was Won was a charming friends-to-lovers story that was also out of this world hot and super sweet. But that's exactly what I've come to expect from Lori Wilde and the perfect-for-each-other couples she creates.
'She stared into his eyes and he stared back, and suddenly he was so much more than her best friend, Ranger. He was every dream she'd never dared dream for fear of ruining their closeness.'
I had SO much fun with How the Cowboy Was Won. What's not to like about a friends-to-lovers book, though, right? But it was so much more than that. There was Lori Wilde's lovely brand of humor and heart which is always a huge draw for me. Although with this romance, it was the characters that really knocked me off my feet. Ranger and Ember were ridiculously cute together and it was so heartening to see them having been best friends since childhood. They were there for each other through every single up and down that occurred in their lives and cheered each other on even when it meant one of them was left behind. Which was basically what had happened right before the book began, when Ranger went to New Zealand to get his doctorate, leaving Ember back in Texas feeling lonely without her best friend.
I really did love Ranger and Ember together. They were the perfect example of an opposites attract couple: he was a sexy geek chic cowboy *and* scientist, whereas she was a beautiful and sassy free-spirited real estate agent. It felt like Ember's outrageousness balanced out Ranger's over-analytical ways. Like with all of Lori's characters they had wonderful, lightning fast dialogue that in this case showed how well they knew each other. There were a few times when they both made a boneheaded move, especially Ember pushing women at Ranger, trying to match make, but for the most part I didn't really get frustrated with them too much. It simply felt right for them to get together. The emotions they worked through seemed real and I completely understood why Ranger and Ember would worry over ruining their decades old friendship.
I just love visiting Cupid, Texas, and this time around not only did we have a couple with tons of attraction and who shared a seriously epic first kiss, but there was also a camel race through the desert and a bunch of other couples who found romance. How entertaining does that sound?

Book Info:

Publication: March 27th 2018 | Avon | Cupid, Texas #6
Return to New York Times Bestselling Author Lori Wilde's beloved town of Cupid, Texas, where wedding fever is in the air . . . and two best friends discover that sometimes the perfect match is standing right in front of you . . .
Ember Alzate is a fantastic matchmaker with one big problem: she can't find the perfect mate for herself! Alzate family legend says that when she kisses "the One" she'll hear a mysterious humming in her head. Well, Ember's kissed a lot of guys and she's never heard a thing. Now, instead of searching for herself, she vows to find her best friend, Ranger Lockhart, a bride. It's clear this smart, sexy man just needs to meet the right gal.
Ranger's returned home to Cupid with marriage on his mind, but he's not interested in the parade of women Ember pushes under his nose. His thoughts keep returning to his best friend—with her combustible combination of curves and sass. No one compares to Ember, but what's it going to take to convince her she's the woman for him?