In How to Date Your Dragon (Mystic Bayou #1) by Molly Harper , As an anthropologist who works for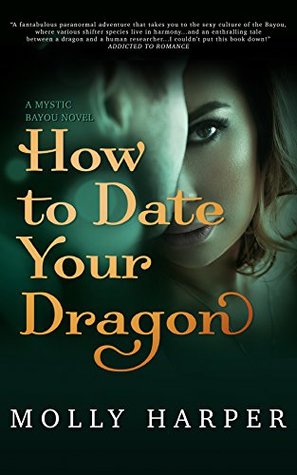 the League for Interspecies Cooperation, Dr Jillian Ramsay has been waiting for the day when she'll be able to go out into the field on her own. And after her mentor has a mishap with a unicorn (don't ask) Jillian finds herself heading to Mystic Bayou, Louisiana to take over his research project. The sleepy little town is an eclectic mix of humans and various shifters. Some of whom are cordial and downright friendly, like the town's mayor, Zed Berend. But there are those who don't exactly trust newcomer Jillian. The most vocal of which is the town's sheriff, Bael Boone.
"Drole means funny or bizarre, and not in the nicest way, to be honest. It's a little bit of an insult. And to us, everything in the outside world is weird, so anything to do with the outside world is drole."
Jillian hummed. "So you're like the Amish, but with more fangs."
He nodded. "Yep."
Bael has his reasons for worrying that Jillian will dig too deep into the town's history while she tries to figure out how the varied citizens of Mystic Bayou have lived together in relative peace for so long. And when bad things start to happen, including a few deadly attacks on the locals, Bael can only assume someone's not happy with Jillian's presence in town. But no matter how much he tries to avoid the fiery, beautiful scientist, she draws him back like a moth to a flame. Or a dragon to his treasure horde. As they team up to find the culprit behind the attacks and he falls further and further for Jillian, Bael will have to decide if they can make a relationship between a shifter and a human work, or if her research missions will take precedence over their future.
'He saw the thirst of curiosity in her. She burned to know for no other reason than wanting to understand. The knot of apprehension that had gripped Bael's chest since the League proposed this project, slipped loose just the tiniest bit.'
If I wasn't already a huge fan of Molly Harper's, How to Date Your Dragon would have won me over from page one. With her trademark snark and offbeat characters, this was a terrific start to a whole new fantasy/paranormal series.
She crouched in front of the dragon's head, which was the size of a smart car.
The scales on his face were bright, glowing gold, with green showing around the edges of each tiny circle…
He was the most beautiful thing she'd ever seen. And he was Bael.'
I've been in love with Molly Harper's writing style since the first Jane Jameson book, Nice Girls Don't Have Fangs, close to a decade ago now. And with every new series and every new book she offers her fans, I simply can't wait to find out what's next. That's why I was so looking forward to Mystic Bayou. This first book had the Southern charm and small town craziness I've come to expect from her. But it also introduced a whole host of fantastical creatures, all shifters of one breed or another. From bears to phoenixes to gators and dragons (oh my!) the townspeople and their shifter alter-egos were pretty incredible to meet. And super funny. But what else would you expect out of Harper, right?
Our heroine Jillian and our hero Bael (pronounced like "Bill" but with a Southern drawl) didn't really hit it off at first. And I love it when Harper starts off her romances with some tension and a wee bit of animosity like this. Not only is it fun to watch the verbal sparring between the characters, but it's also a great way to see that attraction build to epic proportions. That's just what happened with Bael and Jillian. The grumbly sheriff was such a wonderful guy, which he kept hidden under that tough exterior. But he showed his more vulnerable side to Jillian–who was ridiculously adorable and had an independent streak a mile wide. I *loved* them as a couple. They made a great team while they were figuring out who was behind some local murders during Jillian's research trip. And I even enjoyed how Harper handled the ending, with things up in the air until the last minute. *happy sigh*
You can't go wrong with anything by Molly Harper, but How to Date Your Dragon is probably my favorite of her work so far after her Jane Jameson and Half-Moon Hollow books. Hilarious, captivating, and heartfelt enough to give you all the warm and fuzzies, I highly recommend checking this one out.
Book Info:

Publication: Published July 23rd 2018  | NYLA | Mystic Bayou #1
The first book in Molly Harper's uproariously funny, sinfully sexy new Mystic Bayou series!
Anthropologist Jillian Ramsay's career has taken a turn south.
Concerned that technology is about to chase mythological creatures out into the open (how long can Sasquatch stay hidden from Google maps?), the League for Interspecies Cooperation is sending Jillian to Louisiana on a fact-finding mission. While the League hopes to hold on to secrecy for a little bit longer, they're preparing for the worst in terms of human reactions. They need a plan, so they look to Mystic Bayou, a tiny town hidden in the swamp where humans and supernatural residents have been living in harmony for generations. Mermaids and gator shifters swim in the bayou. Spirit bottles light the front porches after twilight. Dragons light the fires under crayfish pots.
Jillian's first assignment for the League could be her last. Mystic Bayou is wary of outsiders, and she has difficulty getting locals to talk to her. And she can't get the gruff town sheriff, Bael Boone, off of her back or out of her mind. Bael is the finest male specimen she's seen in a long time, even though he might not be human. Soon their flirtation is hotter than a dragon's breath, which Bael just might turn out to be…
This book is based on the Audible Original audiobook.
"A fantabulous paranormal adventure that takes you to the sexy culture of the Bayou, where various shifter species live in harmony…and an enthralling tale between a dragon and a human researcher…I couldn't put this book down!" Addicted to Romance