The Tycoon's Shock Heir by Bella Frances is a sensual romance featuring a ballet dancer and a banker who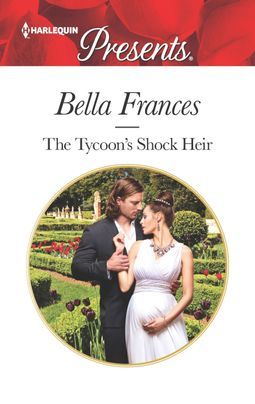 find themselves caught in a conundrum when their night together has unexpected consequences!
Matteo Rossini is fully absorbed in restoring the reputation and dominance of his family bank, the Banca Casa di Rossini. He and his mother are in charge since the untimely death of his father, and their betrayal from his father's oldest friend Claudio. When word comes out that a rival banker Arturo is getting out of the business, Matteo wants to be first in line to merge their businesses. Arturo is one of the old guard, and any whiff of scandal could put off the merger, so Matteo needs to keep reputation clean and he already has had a trial with his last breakup and his ex-girlfriend telling lies to the media. One of the ways to keep himself in the positive press is social engagements and charity ventures, including appearing at an art's benefit for the British ballet and his mother has the perfect date for him – the lovely and talented Ruby Martin.
Ruby is a ballet dancer, currently on the injured list recovering from ligament damage when one of the benefactors of the ballet, Coral Rossini asks her to accompany her son Matteo to the ballet benefit. She's been a supporter of the ballet and of Ruby herself for so long that Ruby can't refuse. She doesn't know much about Matteo except that he's an ex-rugby player who is now working in his family banking industry and he's a handsome and charming man. Ruby had grown up in the ballet, boarding with them since an early age. Truthfully, the money and clothing Coral gives her for assisting Matteo is something she can definitely use too.
Ruby and Matteo get off to an awkward start on the their forced date (especially since Matteo isn't sure if Ruby is trying to take advantage of his mother) but eventually the physical attraction between them is impossible to ignore, culminating in a sexy night together. But when Ruby ends up pregnant, things get much more complicated than just a simple one night stand. Matteo must keep his reputation intact to score the business deal so he offers Ruby marriage and a chance at a real family. Ruby never wanted a baby before, knowing how it would impact her career. But with the reality facing her, is it time for a new dream and a happy ever after?
I enjoyed this romance between two people from very different life circumstances, but with some common experiences. Matteo knows what it's like to have a dream ripped away from him, losing his rugby career and then being pushed to take over his father's banking enterprise. It's not his dream job, but he feels obligated to keep it going for his mother's sake. Ruby's injury has caused her to worry about being able to continue her career, and her pregnancy and quite intense morning sickness have her realizing that her future may be very different than she'd envisioned.
One of the things I really liked in this story is that when Matteo finds out he's going to be a father, he takes to the idea wholeheartedly. Although he doesn't love Ruby (yet), he is determined to be there for as she struggles with the pregnancy and already is committed to the child, and being a good husband if Ruby will marry him. Attraction aside, he admires Ruby and the way she's survived a difficult and lonely upbringing and wants their marriage to work. It takes Ruby longer to adjust to the pregnancy (not helped by her morning sickness and how her career could be over) and Matteo's concern and solicitousness go a long way to helping her adjust to the situation. They grow closer as the days go by. Both of them have to confront what they really want in life and eventually find their way to a real happy ending. It's a lovely story.
Book Info:

Publication: Dec 18, 2018 | Harlequin Presents |
She's carrying the Rossini baby…
Will she become the billionaire's bride?
Restoring his family's legacy is all that's important to Italian tycoon Matteo Rossini. Until captivating ballerina Ruby Martin tempts him to abandon his pursuit for a night of fiery pleasure! Yet when sweet Ruby confesses she's pregnant, Matteo demands his child. But with heat still burning between them, can Matteo ignore his desire for Ruby, too?
Experience the drama in this pregnancy romance!