In How To Run With A Naked Werewolf (Naked Werewolf #3) by Molly Harper, Anna Moder is living under the radar in Alaska, trying to keep a low profile and attempting to blend in with the locals. Her somewhat peaceful existence is shattered when Caleb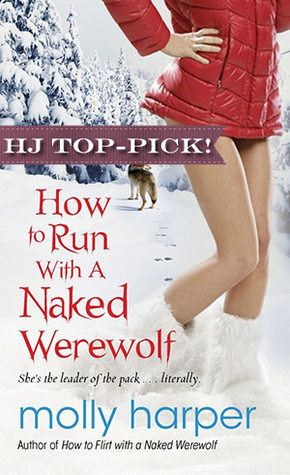 Graham gets shot in front of her in the back parking lot of the local grocery store. Anna's medical training has her doing the unthinkable as she rushes him to safety and tends to his wounds.
'I'd gone far too long without any sort of connection to another human being. I missed something as simple as choosing to be touched.'
Anna notices Caleb's healing process is far quicker than it should be for a human and she realizes he's a werewolf. She lived with werewolves in another part of Alaska previously, working in the medical clinic there for quite a while and loved the tight-knit community. When Caleb wakes up, she's not sure how to approach the subject with him. Especially when he goes all caveman, er…wolf, on her by acting as if he's claiming her as his mate.
He nuzzled his cheek against my temple. "Mine. You stay with me." I arched an eyebrow. "Beg pardon?" His eyes were all spacey and bleary as he murmured, "You stay with me."
Anna agrees to go on the road with the werewolf-turned-bounty-hunter and has to admit she does enjoy having a strong man keeping her safe. She may not approve of all the tactics he uses to find his target, but Caleb seems like a good, dependable guy. Anna still has trust issues after past events led her to go on the run, hence ending up in Alaska, and that raises questions that she's not comfortable answering. As time passes by, she thinks about telling Caleb the whole sordid tale, but realizes he hasn't come clean about being a werewolf. Can she trust her secrets and ultimately her life to the beautiful wolf?
"Werewolf." Caleb's mouth flapped open like a guppy's as he stammered, "Uh-uh, no, you must be having a bad dream. Uh, yeah, that's it, there's no wolf here." I smirked at him. "Are you trying to Jedi-mind-trick me right now? 'Cause you kind of suck at it."
How To Run With A Naked Werewolf is the exciting, hysterical, sexy third book in the Naked Werewolf series by the one-and-only Molly Harper. If you haven't read the other two books, in this case I would suggest starting at the beginning so you can read these in order. The stories build upon each other, so there would be spoilers here in reference to books one and two. For me, no one writes paranormal romance with as much sarcasm and charm as Molly does. The characters are smart and very, very flawed…but in a loveable way that allows us to connect with them more easily. There is just enough pop culture references to keep it entertaining, and I absolutely love the one-liners that crack me up. 'You know your life has taken a turn for the bizarre when a werewolf is sending you winky emoticons.' Caleb and Anna were so much fun together. Without giving too many surprises away, I thought Anna being on the run from her past and getting tangled up with Caleb the werewolf bounty hunter was a really intriguing plotline. I loved how her past with the wolf pack allows her to trust him a little bit, even though he doesn't realize why she's letting him help her. Caleb was a very generous, caring man, even though he was a big tough werewolf. I kind of fell for him with every single thing he did to make Anna safe and feel well taken care of. Their attraction was undeniable and it made for some very hot romance, all done with Molly's quirky, awkward but oh-so sexy way of setting up a scene. This is one of those stories that I truly didn't want to end. I was so hoping for an epilogue and just wanted to have more of Anna and Caleb's story, as well as more of the wolf pack. I guess I've grown more attached to brave Anna and bad boy Caleb more than I realized! I will say that there is a reunion of sorts at the end, both for us and for Anna, and I may or may not have squealed like a little girl I was so happy. 😉 Definitely give How To Run With A Naked Werewolf a try if you love paranormal romance. If you're not already a Molly Harper fan, this will turn you into one for sure! I'll leave you with one last snarky quote:
"Let me tell something. You're an amateur. You're nothing. Forget dragons. Here there be giant pissed-off wolves. And they are not happy with you."
Book Info:

HJ Top Pick Publication: December 31st 2013 by Pocket Books Caleb Graham is a werewolf by nature, a tracker by profession. He uses his "extra gifts" to find people, and not always in the most legal or ethical manner. He doesn't care what they've done, or who wants them found, as long as his considerable fee is paid. He likes his life simple and uncomplicated. Anna Moder, former physician to Caleb's pack, happens across Caleb during a particularly violent "negotiation" that has left him bloodied and unconscious. She helps him, despite the fact that he's cost her a car, so he insists that she stay with him on the road for a while. As they grow closer, Anna looks past the gruff exterior and and the questionable job to thoroughly decent werewolf underneath. Anna – who is careful to edit her involvement with Caleb's pack from their conversations – doesn't talk about why a nice girl wants to live in the middle of frozen nowhere, but she's obviously on the run from something. When Anna's past collides with Caleb's current assignment from one of his sleazier contacts, Caleb finally has to make a choice—protect his job…or his potential mate?