In Christmas with Her Ex by Fiona McArthur, midwife Kelsie Summers bumps into her ex and the man she jilted, Connor Black and his grandmother on Europe's most opulent train The Orient Express. Even after so many years behind them, Kelsie hasn't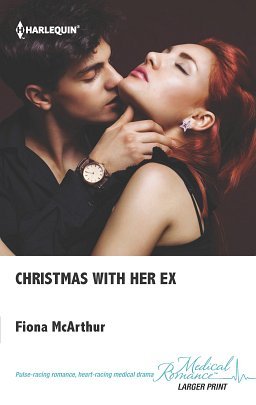 forgotten her first love and neither has Connor forgotten her. The attraction still burns bright between them and their kisses are hotter than ever. A lot is about to happen in a few short days this Christmas when two people are given a second chance at love.
Fiona McArthur tells a great Christmas story about second chances in Christmas with Her Ex which is the second part of the duet Christmas Express.
Kelsie and Connor are trying to avoid each other due to the heartbreak they gave each other in the past but Connor's mischievous grandmother butts in and tries her best to make them realize they still love each other. So you get a couple who gets a second chance in love, a matchmaking grandmother and an awesome Orient Express romance.
I liked Kelsie but her reasons for jilting Connor were not justified according to me and even though towards the end the reader is given a back story as to what might have influenced her decision, it still did not bode well with me. Connor was the silent kind of hero and I absolutely loved him. He may come across cold but aloof and silent are better ways to describe him because he has emotions and feelings-he just hid them better than others. His grandmother was an amazing woman and I loved that she stayed in focus without taking away the spotlight from the couple.The medical details were good and to create a medical situation so skilfully on a train is not an easy task.
Overall Christmas with Her Ex is everything a good medical romance should be and it tells a story which resonates with everything Christmas stands for.
Book Info:

Published December 2013 by Harlequin Medical Romance
A Christmas holiday to remember!
Christmas Eve on Europe's most opulent train is going to be an experience of a lifetime for midwife Kelsie Summers. And it is in more ways than one—because brooding obstetrician and the man she jilted, Connor Black, is on board, too! And her ex is hotter than ever!
Cooler-than-cool doc Connor doesn't like surprises. Seeing Kelsie again is his worst nightmare—especially as their kisses still make his heart skip a beat.
When they're thrown together for a few short days at Christmas there's bound to be consequences