Husband in Name Only by Barbara Dunlop: Adeline Cambridge has worked very hard to meet her goals as an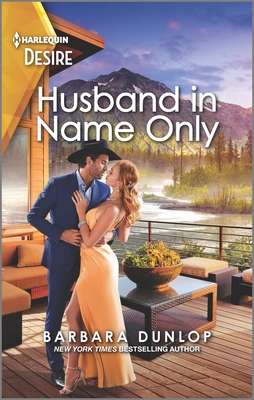 architect. She has lived in California for a while, but takes a job in her home state of Alaska after receiving an excellent offer. Her good friend Katie is able to help her with the move. The one thing Adeline is concerned about is running into Joe Breckenridge. He is now a politician and her father and uncle have tried to get them together for many years to join the two powerful families. Even though Alaska is a large state, there are too many people who know each other. Adeline figures she will try to disguise herself by dyeing and cutting her beautiful auburn hair and wearing glasses. Of course, that doesn't work. Things progress to the point that Joe and Adeline spend a passionate night together that results in pregnancy.
Adeline would be happy to be a single mother and let Joe have visits, but that won't fly with her family. They insist on a big wedding that will help put off scandal for Joe's political career. Adeline agrees if it can be more of a marriage on convenience that she can walk away from in the future and pursue her career path instead of just becoming a political wife. Will she and Joe be able to resist love, especially after the baby arrives?
I liked Adeline a lot. She had always known what she wanted and resisted her father's and uncle's schemes. At the same time the reader is able to see her more sensual side. Joe is happy with his career and has wealth from his family, but he is not cut-throat as so many politicians are. He is able to make concessions, too, in several areas. I don't know if I would be able to handle his PR person, Charmaine. She just came off as a little too hung ho and pushy.
As with all Desire line novels, author Barbara Dunlop mixes in some hot love scenes. She is a new to me author. I was very impressed with her writing style. It flowed well and moved at a perfect pace. You don't often see romance stories written in first person. With the reader seeing events from Adeline's point of view, there is a more focused tale.
This novel is the fourth in the Gambling Men series. It stood very well on its own and was easy to follow. I want to continue following this awesome author.
Book Info:

Publication: February 22, 2022 | Harlequin Desire | Gambling Men #4
A secret wedding bargain turns a rancher and his longtime friend into a convenient husband and wife in New York Times bestselling author Barbara Dunlop's latest Gambling Men story!
Everyone says they're the perfect match.
But is their wedding bargain too good to be true?
The last thing ambitious architect Adeline Cambridge wants right now is to be a blushing bride. But when a smoldering night with rugged Alaskan rancher turned politician Joe Breckenridge leads to an unexpected pregnancy, their families insist they tie the knot. With potential scandals swirling around them, Adeline's secret arrangement with Joe is far from politics as usual. Will this merger between two powerful families end in heartache? Or has Adeline found her passionate partner for life?
From Harlequin Desire: A luxurious world of bold encounters and sizzling chemistry.
Love triumphs in these uplifting romances, part of the Gambling Men series:
Book 1: The Twin Switch
Book 2: The Dating Dare
Book 3: Midnight Son
Book 4: Husband in Name Only