In Love on the Lake (Lakeside #2) by Helena Hunting, Without even realizing it, Teagan Firestone took over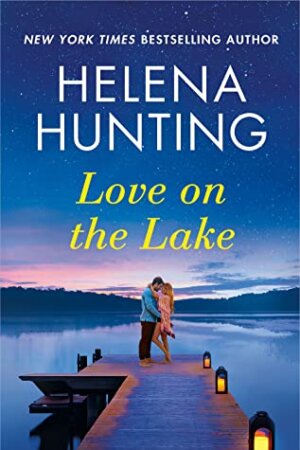 the role as the emotional backbone of her family while in elementary school when her beloved mother suddenly passed away. And now she's in her mid-twenties with her family having just gone through another big change, unable to figure out where her life is headed. The solution? Teagan heads to picturesque Pearl Lake, where her older brother Van recently moved. Staying in his guest apartment and trying out a few part-time jobs will hopefully give her a chance to do what she wants to do for the first time ever–not what is best for her brothers or father. But a complication by the name of Aaron Saunders shakes things up on day one. And after their initial bickering turns to flirting, Teagan knows she's going to have to tread lightly or risk falling head over heels.
'I don't want to believe I'm setting myself up for a broken heart. Not when I can see so clearly that this shattered man doesn't feel deserving of the love he so desperately wants.'
As they get to know each other better, Teagan realizes Aaron isn't just the huge flirt–or grumpy guy he started off as around her–that everyone thinks he is. There's a painful past he still needs to come to terms with. And likewise, Aaron sees in Teagan a woman who is resourceful, kind, and beautiful both inside and out. But she's never taken time to deal with her mother's loss–and what she's done over the years to cope is no longer working. With both of them at a crossroad in their lives, Teagan and Aaron will have to decide if they should stand together to fight their battles or if going separate ways–at least temporarily–will be the key to success.
'I'm starting to think there are a lot of things Teagan is hiding. And under that sunshine-and-smiles facade is a woman facing a lot of demons.'
It was Sunshine vs. Grump in Helena Hunting's latest small-town romance, Love on the Lake, where laughter and awkward flirting gave way to some darker, more personal themes in the second half of the novel.
"I like you." I close my eyes and blow out a breath. I don't think I've ever fumbled this much with a woman in my life. It's a lot easier to get naked and use my mouth for things that don't include a lot of words.
Trigger warning: View Spoiler »Substance abuse, anxiety/depression, cheating (secondary characters). « Hide Spoiler
I always have a good time reading Helena Hunting's romances and this was certainly no exception. Not only did I fall in love with the characters but the setting, Pearl Lake, was easy to love as well. I must say, though, that it did feel like this was a mash up of a rom-com and an emotionally-charged dual point contemporary romance which ended up complementing each other nicely. Books with added emotional depth are my catnip so the latter half of the book really tugged on my heartstrings.
Teagan and Aaron were quite the fun opposites attract couple. It was a slow burn relationship that was built on instant attraction both of them tried to ignore. Their conversations were often hilarious and they had a tendency to put their foot in their mouth or get tongue-tied because of said chemistry. But it was how Teagan's positive outlook and compassion settled Aaron's troubled mind–and how he pushed her a little out of her comfort zone–that made me smile. They were a sweet, absolutely adorable couple. But sadly, Aaron and Teagan both had things in their past they were still battling.
The source of Teagan's issues (for the most part) were already laid out–losing her mother when she was six and taking over the role of people pleaser in her family, never really overcoming that loss. As for Aaron's, that was cleverly explained toward the half-way point. And oh did my heart break for him. I was very pleased to see how Hunting kept things realistic, meaning some raw, painful scenes for both Aaron and Tegan, but that they stood by each other during the rough times. As they each said at some point during the process: "I will love you twice as much on the days when you find it hard to love yourself." Right??? *dreamy sigh & swoon*
QOTD: Sunshine vs. Grump is a popular, highly entertaining trope. But do you think it works out that well in real life?
Book Info:

Publication: Published March 15th 2022 | Montlake | Lakeside #2
Teagan Firestone has always been the dutiful daughter, especially since her mom died. But as her father finally begins to move on, it's her turn to do the same. Her destination: Pearl Lake, a close-knit community with an entrepreneurial spirit and secrets of its own.
One of them is Aaron Saunders, who dropped out of college to work construction for Pearl Lake's upper class. He's a mystery and has a playboy reputation—that is, until he meets Teagan. Neither of them is looking for love, but in a town this small, it's hard not to let your heart get involved.
As their romance heats up, Aaron's elusive past comes to light and Teagan is there for him, bringing them even closer together. But when Teagan is forced to face her own demons, her inability to accept the support of friends and family threatens the life she's worked so hard to build.
Can Aaron love her, even when she can't love herself?