I Thought You Said This Would Work by Ann Wertz Gavin: When Katie's ovarian cancer looks like it has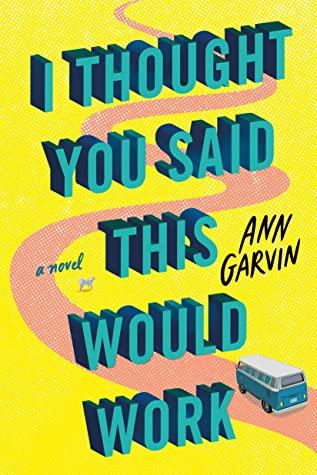 returned, her best friends Hollie and Sam are pushed together on a lengthy road trip to recover Katie's dog Peanut from her awful ex. Unfortunately for both Hollie and Sam, their friendship side of the trio soured at the end of university, and what starts out as a pet recovery trip becomes more of a trip down memory lane and by proxy, an exercise in healing past hurts.
Experienced from Sam's perspective, we explore the complex love and space she still holds for Hollie despite the coldness that exists between them, and feel every moment of joy, insecurity and bewilderment as she scrambles to figure out why it seems Hollie hates her so much. Remaining in contact with Katie the whole way via hot medical intern and potential romantic interest Drew, it isn't until a fourth wheel to balance the car in the form of Summer, an out of work TV host joins the adventure, that Sam begins to find the voice she has been missing all of these years.
From beginning to end, this was a deliciously joyous and yet heartbreaking read that balanced comedy and tragedy beautifully. Every character value-added, and as the backstories filled the curiosity gap we are thrown from laughing at Summer's quirky escapades including a visit to Sharman Sharmansky (gold!), to jaw clenching at Hollie's acerbic tongue. At no juncture was this heading in any direction other than the path it travelled, and whilst a relatively simple plot, the arcs and action kernels were priceless in providing depth and opportunity to recover more then faithful Peanut.
In experiencing the duality of laughter and loss in one beat and the extremes of love in the other, I Thought You Said This Would Work reminds us all to hold on dear to our friends, and perhaps more so, invites us to speak our truth and ensure that we continue to work on communicating openly and honestly. Overall, I highly recommend you jump on board with this one, for it will no doubt prompt some self-reflection and perhaps inspire some to fix any failed friendships from the past.
Book Info:

Publication: 1st May 2021 | Lake Union Publishing |
Widowed Samantha Arias hasn't spoken to Holly Dunfee in forever. It's for the best. Samantha prefers to avoid conflict. The blisteringly honest Holly craves it. What they still have in common puts them both back on speed dial: a mutual love for Katie, their best friend of twenty-five years, now hospitalized with cancer and needing one little errand from her old college roomies.
It's simple: travel cross-country together, steal her loathsome ex-husband's VW camper, find Katie's diabetic Great Pyrenees at a Utah rescue, and drive him back home to Wisconsin. If it'll make Katie happy, no favor is too big (one hundred pounds), too daunting (two thousand miles), or too illegal (ish), even when a boho D-list celebrity hitches a ride and drives the road trip in fresh directions.
Samantha and Holly are following every new turn—toward second chances, unexpected romance, and self-discovery—and finally blowing the dust off the secret that broke their friendship. On the open road, they'll try to put it back together—for themselves, and especially for the love of Katie.