I Want You to Want Me by Erika Kelly: Violet is a sober companion who is ready to take on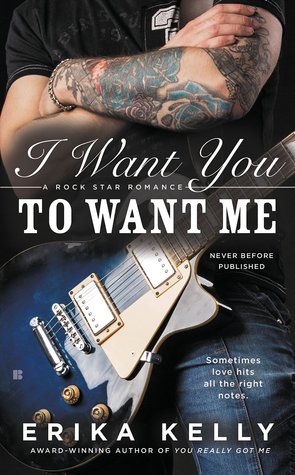 her next job. She's not at all thrilled when she gets the opportunity to work for Blue Fire as she's done with the music industry. But she can't turn down the job since it'll move her so much closer to her goal of owning the farm.
Derek is thrilled that his band, Blue Fire, is finally getting recognition and playing at larger venues. He's fully committed to the band and serves as the leader, especially when it comes to business decisions. He's not at all thrilled to learn of the minder who will be joining them on tour after some bad publicity.
"I don't know what I said, but I'm sorry."
"That's such a stupid thing to say. If you don't know what you said, then you can't be sorry. Let me go."
"No. You're going to wake everyone up. Just get back in bed and go to sleep."
"I'm not sleeping with you. It's unprofessional."
"You're my girlfriend. It's not unprofessional."
"I'm your fake girlfriend in public. There's no one around but you and me."
To keep Violet's role with the band quiet, she poses as Derek's girlfriend which means they need to spend a lot of time together. They get to know each other really well, and Violet helps Derek around the media. The more time they spend together, the more their pretend relationship becomes real. Violet relies on her impeccable reputation, but she can't deny the connection they have in spite of Derek's playboy reputation. With the end her assignment rapidly approaching, Violet is torn in two between Derek and needing to save her home.
She drew in a shaky breath. All the anger rushing out of her. "Well, I can't do that. I have to take the job that will bring in the most money so I don't lose my home." And then, more softly, "I can't lose my home."
"I can't lose you."
I Want You to Want Me is a sexy rock star romance between two very different people. I Want You to Want Me can be read as a standalone, as it continues the story of Blue Fire as a band. Erika Kelly created an interesting and well-balanced pair in Derek and Violet as they brought out the best in each other. Ms. Kelly also allowed fans to watch Blue Fire as each band member adjusts to the lifestyle of a touring band. Fans of Katie Ashley would enjoy I Want You to Want Me.
Book Info:

Publication: July 7th 2015 | Berkley | Rock Star Romance #2
From the award-winning author of You Really Got Me comes the next romance in her red-hot Rock Star Romance series, about a rocker who lives for his music—and loves with all his heart.
Derek Valencia finally has the success he's worked so hard for. His band is touring its debut album and great reviews are rolling in. But when pictures of him tossing naked groupies off a balcony go viral, it's damage-control time. He's assigned a "babysitter" whose sole job is to keep him out of trouble.
Violet Davis swore she'd never work in the music industry again, but being a minder for a rock star will earn her enough to pay off the mortgage on her wildflower farm. And for a girl brought up in the foster care system, owning her own home means more to her than anything.
Though at first the two bang heads, the rocker and the farm girl soon grow close and realize that they make sweet music together. But can a girl who craves the stability of life on a farm really make it work with a man whose life is spent on the road with his band?