In If Ever I Should Love You (Spinster Heiresses #1) by Cathy Maxwell, This Season marks the third time Leonie Charnock has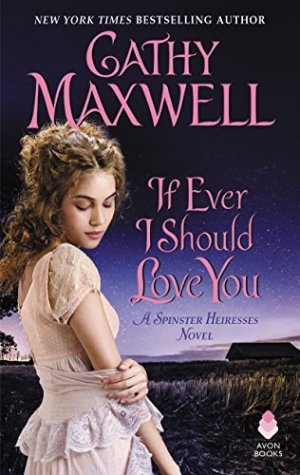 been on the marriage mart. And she's growing tired of the dull parties and having to act as a proper young simpering lady should. With her two best friends by her side, Cassandra and Willa, the three of them are known as the Spinster Heiresses. She could care less what the Ton thinks of her, and if she has her way, she'll never marry or be at the whim of a controlling husband–given her nightmarish history with men. Leonie shockingly finds out that someone from her past, the newly titled Earl of Rochdale, is looking for a bride. And Roman has his sights set on her. He's the only other person who knows what led to her leaving India but she's quite sure she can trust him. If Leonie had to choose a husband, Roman would be a good match. But can she make him understand her wishes to keep their marriage in name only? Or will he prove to be uncaring and possessive like most other men she's known?
'If she had to marry someone, she'd rather it be Roman. He was right: she did owe him that much. But on what terms?'
Roman thought a new title and its responsibilities would take his mind off the woman who has been plaguing his dreams the past five years but he was wrong. When he realizes beautiful Leonie is looking for a husband, he thinks his prayers have been answered. Not only does Roman still care deeply for her, but her father has made sure there is a hefty dowry for whomever wins her hand. And that money would go a long way to rebuild his family home, Bonhomie. He didn't quite understand, though, the depth of Leonie's guilt or shame over what took place in India. Or how that would manifest in her daily life. Roman knows that if they are to make their marriage work, he'll need to have patience and prove to Leonie that he loves her for who she is–past mistakes and all. He's only hoping he can remain supportive and understanding enough of the trauma she's been through to make a difference.
"Help me, Roman. Please help me."
"I would that I could," he whispered fiercely…
"You said you thought you loved me. Please, don't stop," she begged.
His hands came to her shoulders. He pushed her back so that he could look in her face. "I do. God help me, I do. Even though you may be the ruin of me."
A complicated, emotional tale, If Ever I Should Love You was a rock solid beginning to Cathy Maxwell's new Spinster Heiresses trilogy. I think Regency fans are going to fall hard for the overall premise of the series as well as the strong and unique characters we get to meet along the way.
'It wasn't that he wanted to possess her. No, he had the unsettling feeling that it was his fate to protect her.'
Possible trigger warning: Alcoholism, sexual assault, murder.
Boy didn't Cathy Maxwell toy with my emotions in this book! I went from loving our hero and heroine to having a few issues with them back to cheering them on by the very end. So needless to say, I was a bit of an emotional wreck–in the best of ways–when I finished reading this. I really thought Maxwell's writing was on-point here, as I would expect from enjoying her previous work. The pacing was just right, the details painted a picture I could easily envision, and all the characters held their own in the story. And I have to give her credit for creating a heroine who was so guilt-ridden and so flawed but still likable that it tugged at my heartstrings immediately. I think Leonie's journey will be a tough one for some readers to get through, but it was written with such depth of emotion and honesty that I have a feeling fans will accept and embrace Leonie for what she went through.
I loved that our hero Roman was the (mostly) stable one in the relationship. He knew from the beginning that he was falling in love with Leonie and it completely changed his life, although not necessarily for the better. I was a bit angry that Leonie smacked him across the face after about five years apart. Because honestly I think it was Roman who had the right to be angry given the way things were left in India. But he was such a kind, understanding man that he let Leonie have her pain and grief and he went on to try to prove to her that he could be the man she needed in her life. Like I said, there were a few rocky moments with Roman being stubborn and not trusting of Leonie–there was a good reason for it–but he came around a lot quicker than she did.
Leonie was such a multidimensional character. (And astute readers may remember that she was a former match to the Duke of Baynton in Maxwell's Marrying the Duke series!) I never really knew how she was going to face certain situations or how she would treat Roman. Her past truly broke my heart. Between what happened with a man in her life when she was just seventeen to the fact that she'd never felt loved or wanted by her parents, I did understand why Leonie pushed Roman away. But I did also get frustrated when she was completely wrapped up in her own world and was so self-absorbed that she didn't take time to get to know her new husband. She definitely made some poor decisions, but I loved how Leonie blossomed when she met Roman's family and realized she was valued and cared for. The other Spinster Heiresses, Willa and Cassandra, loved her as their close friend of course, but it just really hit home how feeling wanted and even protected can change a person dramatically.
A marriage of convenience trope for the ages filled with heartbreaking situations and inner demons to conquer, Cathy Maxwell broke barriers and warmed my heart with this enticing Regency romance.

Book Info:

Publication: December 26th 2017 | Avon | Spinster Heiresses #1
Once upon a time there were three young ladies, who, despite their fortunes, had been on the marriage mart a bit too long. They were known as "the Spinster Heiresses" . . .
He's inherited a title, but not a penny to speak of, so the Earl of Rochdale knows he must find a wife—preferably one tolerably pretty and good-tempered, but definitely wealthy, and who will exchange her fortune for his family name.
His choice: Leonie Charnock, one of the season's "Spinster Heiresses." Years before, the earl had saved the dark-eyed beauty's reputation and she is still breathtakingly lovely, leading Rochdale to hope that their marriage will be more than in name only.
However, Leonie doesn't want to be anyone's wife. Nearly destroyed by the secrets in her past, Leonie agrees to their union with one condition: there will be a wedding but no bedding. But it's a condition the new Countess Rochdale isn't sure even she can keep. . .