Contract Bride by Kat Cantrell is the third romance in her sexy and entertaining In Name Only series, about three men who've made a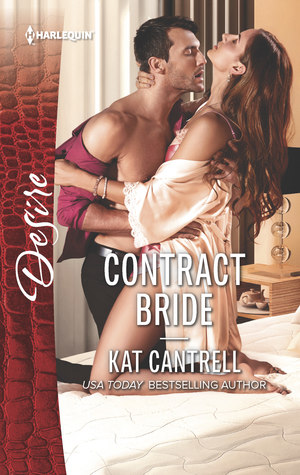 pact to honor the untimely death of their friend by abstaining from love and commitment. Too bad it hasn't quite worked out the way they'd planned!
Warren Garinger is a workaholic. Having seen his two best friends Jonas and Hendrix break their pact to stick to bachelorhood, he's the last (albeit lonely) hold out. All his time is devoted to his energy drink company. When his trustworthy and reliable marketing consultant Tilda Barrett is told there's a problem with her visa and she'll have to return to Australia, Warren quickly comes up with a plan – a marriage of convenience that will give her the time she needs to get her immigration status in order while still being able to help him with his current project. He needs her, and unbeknownst to him, she has her own reasons for not wanting to return to Australia. A deal is struck, and along with it an understanding that there will be no intimacy between them. It's to be strictly an in-name-only arrangement.
But in close quarters things don't work out quite the way they'd planned. In their private thoughts, they'd both had fantasies about the other prior to their marriage, and now that they are spending time alone together it's hard to keep their attraction under wraps. Tilda experienced an abusive relationship back home, and sexual intimacy is a challenge for her. Will Warren find the key to unlock a shared passion and change his mind about love and commitment?
I've enjoyed all the stories in this series, and had been waiting for Warren to get his happy ever after too. This one takes on a more serious subject, with Tilda's experience of abuse, and the result is a thoughtful and important look at consent in a relationship. Warren turns out to be the right guy for Tilda in all aspects – he respects her, he gets her permission before approaching any intimacy, and he finds ways to make her comfortable in expressing herself. In doing so, he helps Tilda overcome the fears that have kept her from being in another relationship. She becomes a stronger, more confident woman which helps her confront her past.
For Warren, the pact he made to avoid the pitfalls of falling in love means that while he can enjoy physical lovemaking with Tilda, (and they definitely share some sexy scenes!) his heart is off limits. Well, only for so long of course. There are some ups and downs as Warren and Tilda struggle to reveal their growing feelings for each other, and Warren has to make up for some mistakes that he makes that almost ruin what they've built. Luckily, he comes around in the end and they get a lovely happy ending. I highly recommend all of the stories in this series!

Book Info:

Publication: Jan 01, 2018 | Harlequin Desire | In Name Only #3
She's marrying her billionaire boss…for a green card
All work and no play for reasons he won't talk about, CEO Warren Garinger keeps his company at the top. And he needs his ace marketing consultant, Australian Tilda Barrett, to stay in the States despite an immigration mix-up. His solution: a marriage in name only. New problem: beneath Tilda's staid suits and severe buns lies the sexiest woman he's ever met. Now their brief wedding kiss is all he can think about and Warren vows to not only marry his convenient wife but bed her, too…