In If You Need Me (The Ashford Legacy #1) by Cassi Carver, Rayna Sommers is an erotic romance author with a fan base that seems to increase on a regular basis. Her readers would be flabbergasted to know that she is afraid of her own shadow from the moment she steps outside of her small Santa Barbara apartment. Rayna's ability to create steamy love stories comes from her heart, her imagination and whatever she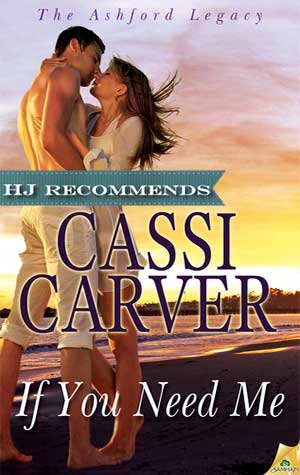 finds of interest on the internet. Her world of isolation is lonely, but she has her pet rooster to keep her company and a virtual boyfriend whom she is desperately in love with.
At twenty-nine, Kyle Ford is the heir to the Ashford business conglomerate and fortune. He is a Harvard graduate that enjoys a little erotica along with the daily Wall Street Journal. He has been one of Rayna's biggest fans since she wrote her first book. Their friendship began with some platonic emails and evolved into hot and heavy video chatting. Kyle understands her phobia and tries to help her deal with it all the way from New York City. Kyle knows that Rayna cares for him, and not his net worth.
When they finally meet in person, their sexual passion explodes and their relationship truly becomes real in every sense of the word.
I am always drawn to novellas and books that have some form of the word "Billionaire" in their book blurb or title. So this book moved to the top of my TBR list once I devoured the book blurb. This story is a delightful and hot surprise from the very first chapter, with two main characters that I found to be extremely likeable and real. Their chemistry is off the charts as their true feelings for each other begin to solidify. Ms. Carver crafts an intelligent love story with lots of heat.
This is the only book I have read by Cassi Carver and it certainly won't be the last. If You Need Me is the first novella in The Ashford Legacy series and it is well-written, hot and sexy. In addition, it deals with Agoraphobia in the sweetest possible way. If you have a hour or two to spare, definitely give this novella a read.
Book Info:

Publication: March 18th 2014 by Samhain Publishing | (The Ashford Legacy #1)
How far will she go for love?
Erotica author Rayna Sommers wears a daring smile in her publicity photos, but the truth would shock her legions of fans. The woman whose stories take readers on wild sexual adventures to exotic locales is terrified of the world outside her front door.
Isolation may be safe, but it's also quite lonely until Rayna meets a charming fan online. Kyle is sexy, funny, everything Rayna desires, and soon their daily emails flare into sizzling-hot video chats. Too bad Kyle lives on the East Coast and Rayna on the West. For a woman who can't even cross the street, much less the country, her dream of a life with Kyle is just too far out of reach.
Kyle has an even bigger problem than getting Rayna Sommers to step outside her comfort zone. He's head over heels in love with her, but he hasn't told her the truth. He's really Kyle Ashford, billionaire heir to the Ashford empire. The owner of the company that's about to shut her publisher—and her livelihood—down for good.