Risk Of A Lifetime by Caroline Anderson: Annie does *not* want the voice behind her to look like it sounds. Because that would be trouble. But she isn't that lucky. Ed Shackleton is better looking than he has a right to be. He's a great doctor too, and he's nice, and funny, and charming, and they have this… this – spark. UGH.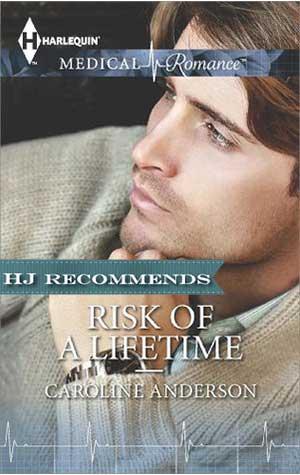 Ed was told what a great doctor Annie Brooks was, but he didn't count on how attracted to her he'd be. They work together seamlessly, professionally, perfectly. That nurse, she couldn't be more obvious with her advances, but Annie is definitely throwing out the unavailable vibe. Doesn't matter, there's a spark, and Ed catches it here and there – it's unavoidable.
Working so closely together makes them fast friends. Like, *really* fast. And Ed can't help himself. He wants to be more. Yeah, he has serious things to deal with, but he also has a right to a sex life. He just wants it to mean something. He wants to have something more. Maybe a friend, someone with whom to decompress. Maybe Annie is that someone. But he'll never want anyone to see any part of his future – whatever that might be.
It's a tempting offer. Annie really likes Ed, but she has trouble trusting men. Especially men that show interest in her. They have a great time together, and they'd definitely burn up the sheets – so perhaps she can invest in a relationship. He was up-front about it – he wants more than a fling, but his time here has and end-date. As long as she can keep her family, especially her daughters, out of things – they should be fine.
One beach outing – that's all it takes to put things into motion. They'd already decided to sleep together, but now that their families have collided, things are much more complicated. And the strings get tangled more and more. Ed has a lot of decisions to make, and Annie has to let him make them.
This book really hit me out of left field. I was a little over a chapter in and I still thought it would be fairly light, even with the heavier overtones. And then BLAM, I was teary all over the place. I really got into the story.
Ed was just so great with Annie and her daughters even though he had the whole weight of the world on his shoulders with his own family. Not to mention being torn up with the decisions he felt he had to make for himself and his grandmother.
And Annie – I felt her trust issues down to the bone. It wasn't a big revelation, but one that hurt nonetheless. She sounded like a great mother although she probably would've been as guilty as described. Her mother was a saint, I'm guessing she would've wanted to help no matter what. I had absolutely no issues with how Annie's family was written.
The resolution with Ed's future was written perfectly I thought, and the ending was so romantic I was wondering who was chopping onions nearby. So good. Highly recommended. Just have some Kleenexes nearby.
Book Info:

Published March 1st 2014 by Harlequin Medical Romances
A risk worth taking?
When exceptionally handsome Dr. Ed Shackleton strides into the E.R. on his first day, Dr. Annie Brooks is left struggling to regain her racing heart! Men are off the menu for single mom Annie, but avoiding this brooding doc proves impossible….
With the fear of a hereditary illness hanging over him, Ed ruled out love a long ago. Yet a fling with Annie leaves him wanting much more. Can Annie convince Ed that true happiness is always worth the risk?