In Immortal Unchained (Argeneau #25) by Lynsay Sands, Chef Domitian Argenis is facing two big problems. The first is that in his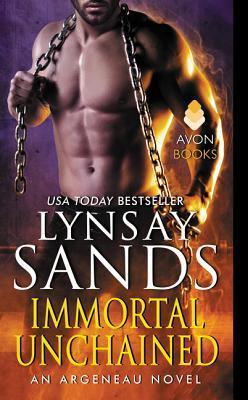 attempt to help find out where abducted immortals are being taken, he finds himself being taken prisoner as well. His second problem is that his beautiful life mate Sarita Reyes, whom he planned on approaching on his own, is also being held captive on the same deserted island, in the same house. The close proximity may fuel Domitian's lust, but it doesn't make it easier to explain his being immortal or her life mate. But as they plan a way to end evil Dr. Dressler's experiments, Domitian just might be able to prove to Sarita that their future is real.
"If there is one thing I have learned in my long life, it is that life passes quickly when you are happy. And you make me very happy. Our life together will fly by in a heartbeat."
"That's so sweet, my love," she said softly and then, grinning, added, "You old guys know just the right thing to say."
Domitian closed his eyes, shook his head, and then silenced her laughter with a kiss.
Sarita got a really bad feeling when she arrived on Dressler's island and nothing was as she was told it would be. Being a cop she's trained to think methodically and protect others. And she knows something terrible is happening there. So when Sarita ends up held captive in a house with a gorgeous immortal, she knows they have to find a way to help those being harmed in Dr. Dressler's labs. But her growing relationship with Domitian could be both a hindrance and a help as they come up against Dressler and fight to keep each other safe.
'While she knew she couldn't possibly love him already, she felt in her bones that she belonged with Domitian.'
Immortal Unchained was an exciting paranormal island adventure as only Lynsay Sands can tell it. Danger lurked around every corner as an immortal and a feisty cop tried to stay a step ahead of an evil doctor intent on doing them–and others–harm.
I really enjoyed this latest installment in Sands' longstanding Argeneau series and had a lot of fun meeting Domitian and Sarita. There was quite a bit going on this time, especially in the latter half of the book as we learned more about Dr. Dressler and his experiments (think: the Island of Dr. Moreau). So the pace toward the end was faster than at the beginning, with lots of action and secrets coming out, but I also loved that earlier time we got one on one with Sarita and Domitian as they got to know each other. They ended up being a very sweet couple who looked out for each other and their loved ones fiercely.
Sarita herself was such a fun character and she had me cracking up at her inner monologues. She called things like she saw them but it was her comical way of seeing things that had me chuckling. I thought Sarita was a cool mixture of tough as nails cop and super caring young woman. She became a cop because she wanted to help people after tragedy struck her family in her teens. And I loved that Domitian understood her need to be proactive and helpful in their situation on the island. He was an amazingly patient, upstanding guy himself who really did have Sarita's best interests at heart. And their connection was of course fast but ultimately believable, thanks to Domitian knowing about his life mate in advance. I don't want to give too many details and ruin the surprise about how long he knew about her or how, but it made me like him all the better for how he handled it.
Things are continuing to stay interesting for the Argeneau family with some questions answered and some still hanging in the balance after this latest book. Where the storyline goes next is anyone's guess, but I hope we continue to see such wonderful love matches as Domitian and Sarita.
Book Info:

Publication:  March 28th 2017 | Avon | Argeneau #25
Ever since Domitian Argenis recognized Sarita as his life mate, he's been waiting for the perfect moment to claim her. Those fantasies did not include him being chained to a table in a secret lab or both of them being held hostage by a mad scientist. Somehow, they have to escape…
Sarita has seen some crazy things as a cop, but nothing to rival Domitian. A vampire? Seriously? But his healing ability, incredible powers, and their mind-blowing physical connection—none of it should be possible, yet her body knows differently. Now, not only do they have to save each other, but other innocent lives are at stake. Failure is not an option, for Sarita intends that Domitian show her exactly what an eternity of pleasure feels like…