Home At Last by Lily Everett is the story of Marcus Beckett and Quinn Harper, which picks up where the previous book, Close to Home,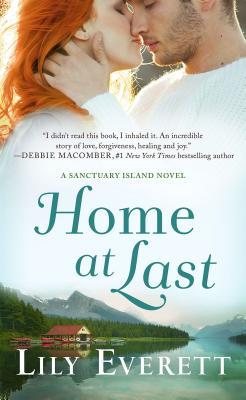 leaves off. In that book, Marcus hooked up with Quinn and then quickly dropped her. Now Marcus's new bar is floundering as the town, in support of Quinn, doesn't give him any business. Quinn's parents are having marital issues. In an attempt to keep them together, Quinn approaches Marcus with a deal–pretend to be her boyfriend for four weeks to convince her parents not to worry about her and work on their marriage, and she'll convince the town to frequent the Buttercup Inn.
Quinn has been unsettled, not really finding anything she enjoys until she started working part-time at the therapeutic riding facility. She's finally in a place where she's content, other than not being with Marcus, the man she had loved since she was a child. Her parents are convinced, with the help of their new "relationship guru", Ron, that she won't be happy if she's not with anyone. When Marcus agrees to help her out, she not only has to convince them she's fine, but fight the urge to fall under Marcus's spell again.
Marcus had left Sanctuary Island after the death of his mother years earlier, determined never to see his father again. He also doesn't want to be with Quinn. Not because he didn't like her, but because he didn't feel like he was good enough for her, especially after the last person under his protection was killed after she sent him away to make peace with his father.
==When they broke off their engagement, it was unlikely to be simple, but they'd figure out how to cross that bridge when the time came. And Marcus would make sure her parents would see that she'd be better off living life without a man as broken down and damaged as Marcus Beckett.==
I liked how Marcus and Quinn but their hesitations and differences aside to help one another. He shows Quinn that she's fine just the way she is, and Quinn shows Marcus that one bad experience beyond his control doesn't make him a bad person.
"It will suck. But you're going to do it anyway, because you're my hero."
He hated that, she could tell. "I'm nobody's hero."
"If you want me to buy that," she told him, "you're going to have to stop being there for me when I need you the most."
Not only do Marcus and Quinn have to convince her parents to stay together and figure out a way to get the island's residents to patronize his bar, they also need to figure out what the real story is with Ron the relationship guru. Something seems off about him, and the pair are determined to figure out what that is.
Because Close to Home is when Marcus returns to Sanctuary Island and where Quinn and Marcus originally hook up, I would recommend reading that book before this one. It could work as a standalone, but readers will have a bit more of their background by reading that book first.
Home At Last is a sweet story of forgiveness and rediscovering love in relationships both young and old. If you've enjoyed the previous books in this series, you won't want to miss this one.
Book Info:

Publication: March 7, 2017 | St. Martin's Paperbacks | Sanctuary Island #6
Marcus Beckett left Sanctuary Island after his mother's funeral, and he hasn't been back since. Until now. Needing a change from the high-risk, high-stakes life of a bodyguard, Marcus makes a solitary life for himself running the neighborhood bar in his hometown. His only mistake? Seducing and then dumping the town's sweetheart, Quinn Harper. Marcus knows he did the right thing—a good girl like Quinn has no business with a broken man like him. But now no one will come to his bar, and he's watching his last chance at a peaceful life go up in smoke. So when Quinn proposes a fake four-week courtship, he can't refuse…even though he knows it's a bad idea.
It's a romantic charade that will buy Quinn time to distract her mother and father from their own martial problems—and will help Marcus welcome back some paying customers besides. But what begins as an engagement of convenience slowly transforms into a deeper connection, one that heals both of their hearts…and ignites the simmering passion between them. Could it be that pretending to be together is just what Quinn and Marcus needed to give their real love a second chance?