In a Cowboy's Arms by Rebecca Winters: Sadie Corkin was planning to elope with Jaron Bannock the night before her 18th birthday. It was the only way that they could be together before her father found out that she was dating a Bannock and did something to stop them. But faith had other plans for them and Jarod was in an accident, which Sadie didn't know about until a day later and fear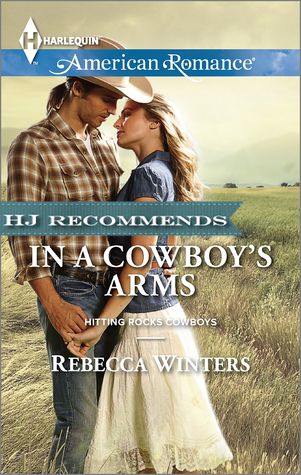 had her running to her mother in California.
Now eight years later, Sadie finds out that her father has died and is finally able to return home. But she is not alone, her mother died while giving birth to Sadie's baby brother, and with the death of the baby's father a few months before that, Sadie has been left as the parent of her baby brother, along with the baby's uncle.
When Jarod finds out that Sadie's father has died, he doesn't think about the death of the man that brought so much hate to many people's lives, but that Sadie will be coming home. He cannot wait to see her and find out what has happened to her, even if he still doesn't understand how she could have not loved him enough to marry him and left him with just a note.
After her father's burial, Sadie needs some time alone and walks away for some time alone, away from all her friends and neighbors. Only she soon finds herself facing Jarod and what she left behind all those years ago. Sadie doesn't believe that they can pick up where they left off and then there is a guilt she carries from the night of his accident, a guilt and some details that Jarod doesn't know about.
But Sadie is not the only that has a few secrets. Jarod also has a few details that nobody knows about, what happened right before his accident. Only now they must bring all those secrets out to the light and share them if they want any future together.
Unfortunately, they will have quite a few obstacles on the way. Like the fact that Sadie's father on a mean streak took Sadie out of his will and put the ranch to be sold after his death, and if Sadie wants the ranch now she must buy it. To make things worst, there is someone that wants to take everything, the ranch and Sadie and will not stop until he gets it, putting Sadie and Jarod in terrible danger.
Sadie and Jarod will break your heart with their story but it will also show you how with a little faith true love can conquer all, every time. I loved how they both wanted to protect one another all the time, even if they only complicated things a little here and there. And their wedding was beautiful, kudos to Rebecca Winters for such a beautiful scene and a wonderful dialogue.
If you like second chance romance reads, with a good love story and lots of depth, don't miss In a Cowboy's Arms by Rebecca Winters.
Book Info:

April 1st 2014 by Harlequin American Romance Series #1494
An Enduring Love
The day she turned eighteen, Sadie Corkin was going to elope with Jarod Bannock, the son of her family's most bitter rival. Until it all went wrong… Eight years later, one thing hasn't changed: her passion for the proud, sexy Apsaalooke rancher.
When tragedy brings Sadie home to Montana horse country, Jarod knows he has only one chance to make things right. There's unfinished business between them, including what really happened that fateful night. And now there's a more immediate threat to their happiness: an enemy who wants Sadie's ranch to create a cattle empire. Can Jarod find a way to stay true to his heritage and trust in the love that is his destiny?