In Bed with the Earl by Christi Caldwell is the first book in the Lost Lords of London series. This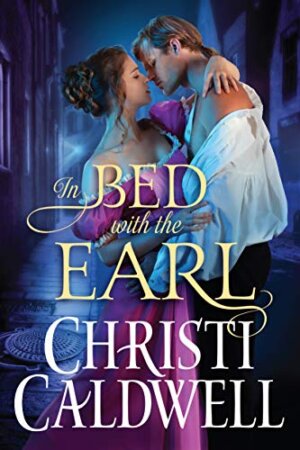 author has always been one of my favorites and this book reinforces why. It was a great start to the series, and I can't wait to see what the author has in store for us next. Mrs. Caldwell has a talent for developing characters with a troubled past that is irresistible and you can't help but fall in love with. They have managed to overcome those difficulties and better themselves, but still need to find their happy ending.
Percival Northrop, the heir to the Earl of Maxwell, was kidnapped as a child from his sickbed after the death of his parents. His mind has blocked the memories of his early childhood and now he goes by the name Malcom North. All he knows is the life of a tosher and trudging through the tunnels of the underground sewers to survive. Once he learned that he was the lost Earl of Maxwell, his memories started coming to him. He didn't want the title or the responsibility since he was satisfied with his life as it was, so he was dismayed when he was discovered and hounded by fortune-hunting women.
Verity Lovelace, the illegitimate daughter of the Earl of Wakefield, had been working at The Londoner since the age of twelve after both of her parents had died. She had struggled to support her sister, Bertha (their former nursemaid) and herself. She had fought and worked hard to become a reporter. She was furious when she learned another reporter stole her story and claimed it as his work. She needed to find the lost earl and have his story to save her job. Verity went toshing when she learned that the lost earl preferred to live in the sewers as a tosher.
They arrange a deal and pretend to be married to help each other. Malcolm needs someone to keep the fortune hunters away and Verity needs somewhere to live while she tries to get her job back. But someone is trying to stop her from writing her story.
This book was amazing, and it grabbed my attention at the beginning and held it to the end. I loved the characters and they were perfect for each other. You could feel the anguish Verity went through when her story had been stolen and Malcom's memories of his parents started to return. The character's emotions were heartfelt and touching and I can't wait for the next book.
Book Info:

Publication: March 17th 2020 | Montlake | Lost Lords of London #1
Christi Caldwell, USA TODAY bestselling author of the Wicked Wallflowers series, combs London's underground and finds romance and danger for a missing lord and the lady who loves him.
To solve a mystery that's become the talk of the ton, no clues run too deep for willful reporter Verity Lovelace. Not even in the sewers of London. That's precisely where she finds happily self-sufficient scavenger Malcom North, lost heir to the Earl of Maxwell. Now that Verity's made him front-page news, what will he make of her?
Kidnapped as a child, with no memories of his well-heeled past, Malcom prefers the grimy spoils of the culverts to the gilded riches of society. Damn the feisty beauty who exposed the contented tosher to a parade of fortune-hunting matchmakers. How to keep them at bay? Verity must pretend to be his wife. She owes him.
The intimacy of this necessary arrangement—Verity and Malcom thrust together in close quarters—soon sparks an irresistible heat. But when the charade ends, the danger begins. Will love be enough to protect them from a treacherous plot devised to ruin them?