Indonesian Date with the Single Dad by Jessica Gilmore: Madison Morgan has had a good success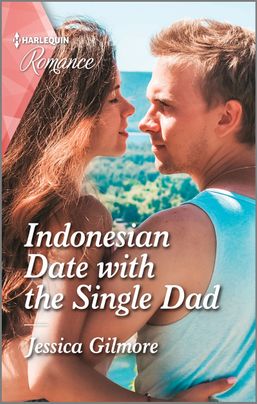 rate for her high end dating agency. She caters to those who are rich and want a match done with discretion. She thinks she has the perfect woman lined up for billionaire Luke Taylor. His one caveat is the woman must love children, love his daughter Isla and being willing to settle in Australia. He is raising Isla on his own after her mother dropped the child off and ran off.
Unfortunately, the woman Madison had lined up finds romance on her own and leaves Madison high and dry. To try to offer excellent customer service, Madison flies from her home base in London to meet Luke who is set to depart on a luxury cruise from Indonesia. Since the cruise is already paid for Madison agrees to be Luke's date at least for a few days.
Madison doesn't want to get too involved with Luke or his daughter. She is afraid she can't be what he needs. She was a child actress who worked and never had a real life. On top of that, instead of giving her the unconditional love she deserved, her parents betrayed her.
It is easy to care for Madison. She has been dealt a raw deal, but was strong enough to attain her goals of having her own business. It's a shame her childhood has kept her from finding the love she deserves as an adult. The author definitely shows her growth over the course of the novel.
It's easy to relate to Luke. He's worked hard to get ahead, but at the same time his daughter is his top priority. That is truly a rare quality in this day and age.
The romance between Madison and Luke is a slow burn and really quite sweet. He is very patient.
This book is #4 in a quartet. Each book is written by a different author and are standalone. I have read previous novels by author Jessica Gilmore and each is even better than the last.
Book Info:

Publication: September 28, 2021 | Harlequin Romance | Billion-Dollar Matches #4
Happy ever after…
For the matchmaker?
When dating agency owner Madison Morgan flies out to Indonesia to tell billionaire single dad Luke Taylor that the match she'd arranged for him has fallen through, she never imagines she'll become his stand-in date! But as they sail through the Indian Ocean on a luxury yacht together and meet up with his little girl in Sydney, Madison's long-hidden yearning for a loving family comes hurtling back into view…
A Billion-Dollar Matches novel