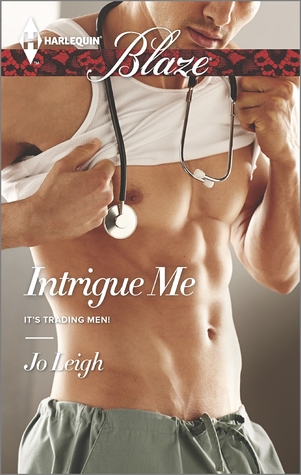 Intrigue Me by Jo Leigh: What's really in a name? Right?
Lisa McCabe wasn't sure if she was ready to go back out into the big bad world just yet. It wasn't that she didn't know how to physically take care of herself because she could, but mentally, emotionally? Those were a different story and one she wasn't sure she had the answer to. So when she took the case of looking in on a certain doctor she wasn't sure why put she knew she wanted to see him.
Dr. Daniel Cassidy was still reeling. Yes it had been three months since his father had died but it had been almost a week and three months since his entire world had shifted on it's axis and he still wasn't sure what side was up. So he was hiding of a sort, practicing medicine at the free clinic rather than in the practice he just co-inherited with his brother.
When Lisa and Daniel meet there is nothing else but serious chemistry. However nothing is really that easy or that painless. Through a series of events including a "mistaken" identity, a gunman and a brain tumor, things between these two are a roller coaster ride. The big question is at the end of the ride will they be throwing up or rejoicing?
Wow. These two have some serious heat between them that comes off the pages and steamed my glasses. To that I have to say thank you very much Ms. Leigh for making this story so real and so amazing. I admit when I read the plot line I wasn't thinking much of the story but almost from the first page this story will hook you and you will be so caught up in the plot that you won't be able to think of anything else. The descriptions of everything from the people to the places are fantastic and can make you think you are really in the city. This is a fabulous novel well worth picking up for any time you can sneak away, but be warned you should try and set aside time to read it in one sitting otherwise you are going to be kicking yourself for everything you blow off to finish reading it.
Book Info:

 April 21st 2015 by Harlequin
Name: Dr. Daniel McCabe
Marry, date or one-night stand: The rarest of all…marry.
Warning: Gold diggers, keep your distance.
Bottom line: Perfect for playing a naughty game of doctor.
PI Lisa Cassidy just found the perfect man. Dr. Daniel McCabe is 100 percent hotness. Unfortunately, Daniel's Hot Guys Trading Card doesn't belong to Lisa. It belongs to another woman who's hired Lisa to go undercover and get the real scoop on Dr. Delish.
Lisa should keep her distance and stay professional. She certainly shouldn't have hot, lust-filled sex with the subject of her investigation. Especially because Lisa knows never to get too close to anyone…especially a sexy doctor who's hiding secrets