Invitation from the Venetian Billionaire by Lucy King is a great read and I loved that Carla was portrayed as a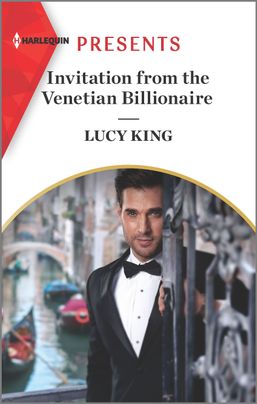 hard-working, strong female, who had no time for relationships beyond a couple of days.
Book two in the trilogy of three lost to each other triplets, we meet Rico, second of the three triplets. Finding Finn first in England, only to disappear again, Carla rushes off to Venice to accept Rico's now or never dinner invitation in Venice. Terrified she's the cause of Rico's disappearing act she's desperate to set the wheels back in motion to reunite the brothers. Disaster prevails landing Carla stranded on Rico's Island where the two face their fears, emotions and feelings for each other head on.
I loved Carla. She has no time for men, so for one to turn her head is unheard of and to watch her fall in love is as delightful as it usually is to watch an untouchable Hero be knocked for a 6 by love. I thought Lucy King did a great job at Carla and Rico's departure. The feelings really hit hard in the stomach when Rico said there's nothing left in Venice for her to return to. The reunion was just as beautiful.
I thought this was a lovely story. I loved Finn's reappearance and how the story started. I loved the instant attraction and the adventure in Venice. I loved Carla and I hope to read more heroines like her. I felt the heart break and I felt the joy. I can-not wait for the conclusion and meet mysterious brother number 3.
Book Info:

Publication: July 2021 | Harlequin Presents | Lost Sons of Argentina #2
How long will she be stranded in his palazzo before their connection becomes irresistible? Find out in this forced proximity romance from Lucy King.
Once they trust each other…
There's no going back
These days, PR expert Carla Blake knows how to handle herself around powerful men. Never let them too close. But to persuade the formidable Rico Rossi to reunite with his long-lost brother, she must accept his invitation to visit Venice…
Rico grew up relying only on himself and has no intention of playing happy families. He's much more intrigued by Carla's determination to ignore their all-consuming attraction. But as they find themselves at the limits of resistance, Rico must decide how much he'll give up to protect his lone-wolf lifestyle…
Book 1: The Secrets She Must Tell
Book 2: Invitation from the Venetian Billionaire
Book 3: The Billionaire Without Rules