Island Affair by Priscilla Oliveras: With a weeks worth of mandatory leave, Luis Navarro is less than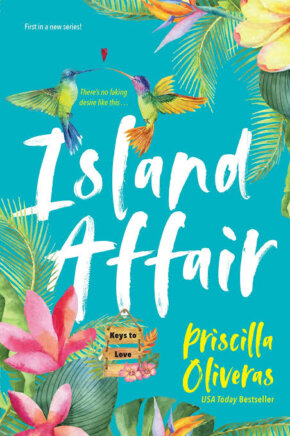 thrilled that his fire Chief is forcing him to take this time off to deal with the resent trauma that he has faced or face more serious consequences. Faced with a week of time wasting when he rather be helping save people and having a sense of order to his life, Luis ever the saint that he is, jumps into action when Keys tourist Sara turns up with a dilemma on her hands.
"Meet-cute, tough guy. It's a rom-com term," she explained. Like that made any sense to him. "You know, when the hero and heroine meet for the first time. Sparks fly. Attraction shimmers in the air. But there's some problem getting in their way."
Having just landed in Keys West for their family vacation, Sara already has her first problem on what is supposed to be a stress free holiday, when her long distance boyfriend bails on the trip. Already feeling like the odd one out amongst her high achieving family, the last thing Sara needs now is to be the one to cause her recovering mother any more unneeded stress showing up without her promised boyfriend.
"Then Luis arrived on the scene. All white knight– ish. With his monster truck and heart-palpitating hunkiness."
Thinking quick Sara comes up with the idea to ask the hot firefighter to pose as her fake boyfriend for the week so she can save face with her family. With nothing better to do with his week off and always being the helper that he is, Luis decides to go along with Sara's crazy plan. After all spending the week with the cute tourist was sure as hell more fun than brooding on his own or being hen peeked by his mother. The pair grow closer over the course of the week, while helping each other deal with their respective family issues. When things come to an explosive head it is nice to see that their families are there to help them see their true feelings.
"Bella sirena," he whispered, his heated breath raising goose bumps on her flesh. "This beautiful mermaid's caught herself a hunky sailor," she murmured.
Island Affair was a lovely read, not only was it about a cute fake-turned real love story but it was also a story of bring together a fractured family and moving past pain. Oliveras has done a brilliant job of interlacing the two worlds of a NYC social media influencer and a Cuban firefighter and their different backgrounds. Both Sara and Luis were delightful characters that played very well of each other. It was nice to see Luis help Sara work through her problems with finding her place in the family. I also loved the close knit family and community that Luis has in the Keys and how seamlessly Sara fitted into his life.
"Total honesty here. I don't want a pretend seven-day island affair. I want it all, with you."
I absolutely Island Affair and the cute fake-turned real romance that came with this read. I am looking forward to seeing where Luis siblings stories take us in their coming books.

Book Info:

Publication: April 28th 2020 | Kensington Publishing Corp. |
Sought-after social media influencer Sara Vance, in recovery from an eating disorder, is coming into her own, with a potential career expansion on the horizon. Despite the good news, her successful siblings (and their perfect spouses) have a way of making her feel like the odd one out. So, when her unreliable boyfriend is a no-show for a Florida family vacation, Sara recruits Luis Navarro—a firefighter paramedic and dive captain willing to play the part of her smitten fiancé . . .
Luis's big Cuban familia has been in Key West for generations, and his quiet strength feeds off the island's laidback style. Though guarded after a deep betrayal, he'll always help someone in need—especially a spunky beauty with a surprising knowledge of Spanish curse words. Soon, he and Sara have memorized their "how we met" story and are immersed in family dinners, bike tours, private snorkeling trips . . . sharing secrets, and slow, melting kisses. But when it's time for Sara to return home, will their island romance last or fade with the stunning sunset?