In It Happened One Wedding by Julie James, Sidney is ready to move on after an embarrassing and hurtful end to her engagement. Her biological clock is ticking, and she would like nothing more than to meet Mr. Right. Her sister's upcoming wedding makes her all the more anxious to at least have a date for the wedding.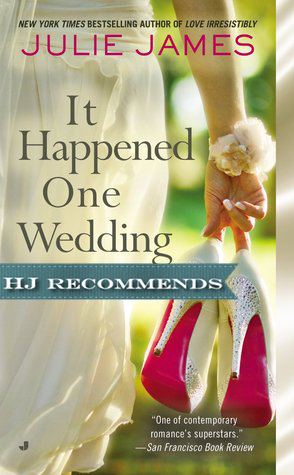 When Vaughn, an FBI special agent watches Sidney's date go sour in a coffee shop, he is intrigued by her and decides to take his chance. He is cocky, charming, and confident. Not to mention hot. But he is definitely not Mr. Right material, and Sidney quickly puts him in his place and moves on. Or so she thinks – until she realizes he's her sisters future brother in law! Vaughn and Sidney will be seeing a lot of each other…forever! Sidney is determined to resist Vaughn's charms. Vaughn is in pursuit mode even if he isn't looking for long term and never has sex with the same woman in one week. Even as Sidney is seeking Mr. Right, she throws caution to the winds and indulges in Mr. Right Now.
What begins as a fun, short term fling though soon could be something so much more as their feelings grow and a deeper connection starts to form. Vaughn realizes Sydney just might be everything he wants and needs. But can Sidney risk her heart again on a man like Vaughn?
I wasn't too sure of Sydney at first, but Julie's development of her character was outstanding and soon I couldn't imagine a better heroine in It Happened One Wedding. She has her issues to deal with and that small chip on her shoulder about men. The turmoil her character went through added so much strength to Sydney. Sydney and Vaughn are both mature, and they are both honest about what they are looking for (or not looking for!), so it was fun to watch their characters work around this. Despite Vaughn being full of himself, I really enjoyed his character…he just hasn't found what he's looking for yet and no one is more surprised than him when he does! The connection between Sydney and Vaughn is real, their characters are realistic, and they work really well together.
Julies weaves the humor in their relationship effortlessly with the more serious aspect of their characters and the relationship, making It Happened One Wedding an easy story to fall into. It Happened One Wedding is really the story of Vaughn and Sidney's romance, but I love how Julie intersperses this with pieces of their lives outside their relationship. Just enough to make things even more interesting but not too much that it overwhelms the romance. The secondary characters are a mix of old and new making It Happened One Wedding easily a stand alone book (even though I recommend the other books in this series because they are so great!).
Fast paced, smoothly written, It Happened One Wedding is a highly entertaining, fun romance with a lot of heat that I'd highly recommend to any romance reader!
Book Info:

Published May 6th 2014 by Jove
SHE KNOWS BETTER THAN TO SAY "I DO"
After a humiliating end to her engagement, investment banker Sidney Sinclair is done with commitment-phobic men. But when her sister winds up engaged after a whirlwind courtship, she's thrown in to close contact with exactly the kind of sexy playboy she wants to avoid—the gorgeous best man. She's stuck with him, for better or worse, until her sister walks down the aisle, but that doesn't mean she has to give in to his smooth advances, no matter how tempting they are…
BUT HE MAKES IT HARD TO SAY "I DON'T"
Special Agent Vaughn Roberts always gets his man on the job and his woman in bed. So Sidney's refusal to fall for his charms only makes him more determined to win over the cool and confident redhead. Only what starts out as a battle of wills ends up as a serious play for her heart. Because the one woman who refuses to be caught may be the only one Vaughn can't live without…