In It Started with a Cowboy (Cowboys of Creedence #3) by Jennie Marts (April), Chloe Bishop and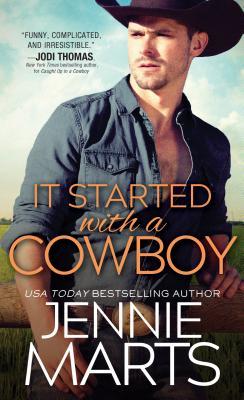 Colt James couldn't be more different. Still, Colt loves spending time with her, even if they can only be friends. However, when Chloe's safety is threatened, Colt is determined to do everything he can to help keep her safe. Yet, he never intended to fall in love, but finds he can't resist the orderly and prim school teacher. Will Colt and Chloe be able to overcome the obstacles they face to be together or will they lose their shot at happy ever after?
His arms automatically went around her, the slight bump to his chin ignored with the warm press of his body. "I got ya."
She held on to him for a second, then straightened up in the seat. "Oh my gosh, I'm so sorry. Did I hurt you?" Her cheeks went as pink as her sweater.
"No, darlin'. You did not hurt me," he said with a light chuckle. "I'm a lot tougher than that. But you look half froze."
Ever since reading the first book of this series and being introduced to the James brothers I have eagerly been waiting for the opportunity to read Colt's book and I've got to say it was a fun, charismatic and extremely engaging read that gripped my attention from the very beginning and didn't let go until the very end. Really, the way this story started drew me in immediately had me smiling and laughing at the heroine because she's quirky and comes off a little innocent with her unique way of swearing (without actually swearing) and limited experience with men. However, it was from the moment where Chloe and Colt come together for the first time in this story where things get really interesting because running into Colt the way she does is a little embarrassing, especially on top of how much of an effect Colt has on Chloe. Does he make her nervous?
="So who are you going to find to help you coach at such late notice?" He pulled up to the stoplight, then turned toward her and raised one eyebrow. She held up her hands. "Oh, no. Not me. You've got to be kidding. I don't know the first thing about hockey. The only game I've ever seen was the charity alumni game that you played with your brothers last summer."
"Well then, you do know something about hockey. You've at least seen a game."
"But I don't know anything about the rules or how to play. I don't even know how to score."
A playful grin covered his face. "I can teach you how to score."=
As for the dialogue, it was intense due to the main characters back stories and the little dose of suspense because of what's going on with the heroine's next door neighbors that had me worried for her. However, the dialogue wasn't all intense. Indeed, it was also filled with playful banter between the main characters and wonderful teasing moments between the hero and his brothers and the heroine and the new friends she's made in the hero's sisters-in-law. Moreover, I really enjoyed the main characters because of their back stories, the heroine's quirkiness and the obstacles these two face to be together. Will the heroine be able to put her trust in the hero completely?
With the main characters, I really enjoyed the heroine's quirkiness, her resilience and her courage in handling the danger she finds herself in because of her neighbors. I also liked the heroine's boldness when it comes to going after what she wants and what she wants is Colt. She can't hold back her feelings anymore. Not when they're spending so much time together. While the hero, he's been through so much and I loved how hard he's worked to bounce back from the past mistake he made that cost him his chance at a career as a big league ice-hockey player. I also liked how protective the hero was of Chloe and that he would do anything to help her, especially after what happens at the start between them; and how kind and caring he is towards the kids he coaches in ice-hockey. Yet, what I liked most of all about the hero was the decisions he made throughout this story that gave me hope that the hero would get everything he wanted – a relationship and what could be his dream job.
Overall, Ms. Marts has delivered a wonderful read in this book where the characters are relatable and likeable; the chemistry between this couple was tangible and convincing; the romance was full of heat and passion; and the ending had me loving the hero's determination to show the heroine that there's nothing more important than her and the responsibilities he has. I would recommend It Started with a Cowboy by Jennie Marts, if you enjoy cowboy romances, the friends to lovers trope, the opposites attract trope or books by Lia Riley, Donna Grant, Lori Wilde and Soraya Lane.
Book Info:

Publication: April 30th, 2019 | Sourcebooks Casablanca | Cowboys of Creedence #3
What will this cowboy risk for love?
Colt James is back home on the family ranch, and he's done taking risks. A car accident ruined his shot at a professional hockey career and messed up his love life, and he's not taking a chance on anything that seems too good to be true. Especially not on Chloe Bishop, his nephew's irresistibly charming teacher and the one woman he can't stop thinking about.
Chloe Bishop liked her life the way it was–orderly, structured and safe. Life goes from managed to messy when Colt talks her into helping him coach a hockey team of rowdy eight-year-olds. Being this close to the cowboy she's crushing on is dangerous territory. But when a real enemy threatens Chloe, Colt will do anything to protect her. Even if it means risking himself–and his heart.