In It's Hard Out Here for a Duke Keeping Up with the Cavendishes #4) by Maya Rodale, Born and raised on a horse breeding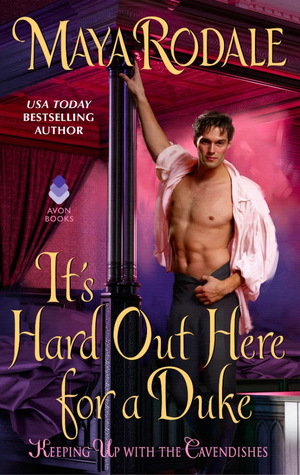 farm in Maryland, James Cavendish had heard his father's tales of being the son of a duke, living in London and then leaving high society behind to forge a new life in the colonies. But after the shocking news that he has just inherited the dukedom, James will now be embarking on his own adventure. Before he gives his life up to the duties and responsibilities that will rule his world, he decides to have one blissful night with a lovely young lady he meets in a tavern outside London. He didn't even get her name that night but thankfully he doesn't have to wait long to find out. Meredith Green not only lives in London, but is also his employee as a companion to the dowager Duchess in residence. And that in itself poses a problem. James longs to make Meredith his in every way possible and begin a life with her. But with the new rules he must follow to avoid scandal–his sisters have done enough damage in that regard–his forbidden romance may cause him to rethink his devotion to the dukedom if it means a chance with Meredith.
'He still had no interest in the flashy, fancy, London-based aspect of being a duke. But the land and the people tugged at his sense of decency, integrity, and responsibility. He could not turn his back on them.'
Living her life being in service to the dowager Duchess of Durham has given Meredith the opportunity to skirt around the edges of the Ton and learn how to behave like a proper lady. But the night she walks into the local tavern and flirts outrageously with a handsome American she forgets every one of the Duchess's rules. Knowing that she'll have one moment in time that is strictly about herself and her longing to be seen as a woman will be enough for Meredith. Or so she thought. Because shockingly, the next day she learns her mystery man is none other than the new duke. Tasked with showing him how to behave like a proper member of the peerage as well as teaching him all the rules of society proves to be almost too much for Meredith to take. For she finds that with every moment she spends in the duke's presence, the easier she thinks it would be to throw caution to the wind and give in to temptation one more time.
He caught her hand. Held it against his cheek. Then his heart.
When he said, "I don't want this day to end, Meredith," she was undone.
It's Hard Out Here for a Duke was a passionate, swoon-worthy Regency that had delightfully comical family interactions and a rather epic forbidden romance. But what else would you expect when throwing a former American horse breeder–having just become a duke–and his raucous sisters into the midst of London's haute Ton?
Finally, now, he was beginning to understand a love so powerful it would make a man forgo title, family, king, and country.
James knew that soon, *soon*, like his father before him, he would have to decide: duty or love.'
Oh, what fun I had with this book. You can pretty much count on an entertaining tale from Maya Rodale but somehow the combination of James's refreshing attitude about society and Meredith's longing to be seen as someone worthy was simply wonderful. And their chemistry! The heat and genuine care between them was absolutely palpable. The touching scenes between Meredith and James were filled with sweeping emotions and such a sense of longing that I became completely caught up in everything. Even though it would have been taboo for a duke to have an open relationship with a lady's companion, it just seemed so right when they were together. And it felt like James and Meredith brought out the absolute best in each other.
This story took place at the same time as the other three novels did so we got to see James's perspective on his three sisters'–Bridget, Amelia and Claire's–romances as well. (But you can actually read this as a standalone and it will work fine.) I loved getting the chance to see how much James truly cared for his sisters. They alternately exasperated and amused him, but every decision he made was with them in mind. How can you not admire him for that, right? And as James became familiar with the Ton and what was expected of him as a duke, we got to watch as he grew and evolved, realizing the full scope of his responsibilities. He took it seriously that so many people depended upon him, which was why James was so torn in wanting to do the right thing but yet also wanting to marry Meredith.
Meredith's background was a fairly bleak one but she was thankful that the dowager Duchess took her in when she was around twelve and taught her everything there was to know about being a lady in society. My heart went out to Meredith as she was kind of…stuck. She wasn't exactly a normal commoner but yet she wasn't part of the Ton either. She was a lady's companion, stuck somewhere in between and rather invisible to most people. I loved how Rodale conveyed Meredith's longing to be seen as her own person and how strongly she felt towards James. It was quite the predicament they found themselves in but all of the struggling was so worth it in the end for them.
Pleasant, lighthearted moments between all the characters, even James and Meredith, put a smile on my face and kept me chuckling frequently. But it was the intensity between our hero and heroine that really captivated me, and I think will capture reader's hearts as well.

Book Info:

Publication: November 28th 2017 | Avon | Keeping Up with the Cavendishes #4
In the fourth novel of Maya Rodale's tantalizing series, a newly minted duke spends one night with his perfect woman…but can he win her for a lifetime
Some Mistakes…
When American-born James Cavendish arrives in London tomorrow, he'll become the Duke of Durham. Some might be ecstatic at the opportunity. Not James. He's a simple man, fond of simple pleasures. And right now, nothing could be more pleasurable than spending his last night of freedom with a beautiful stranger.
Are Far Too Good…
One wild night, Meredith Green, companion to the dowager Duchess of Durham, said yes to a man she thought she'd never see again. Suddenly, they're living under the same roof, where Meredith is expected to teach James how to be a duke—while trying not to surrender to temptation a second time.
To Be Forgotten
For a duke and a commoner, marriage would be pure scandal. Yet nothing has ever felt as right as having Meredith in his arms…and in his bed. Soon he must choose—between a duty he never desired, and a woman he longs for, body and soul…