Captive for the Sheikh's Pleasure by Carol Marinelli is the first story in her Ruthless Royal Sheikh's series, set in the fictional Arabic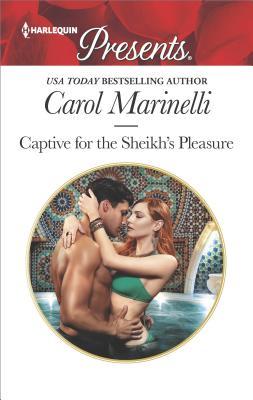 desert country of Zayrinia. It's the story of a man ready to rule, and the woman who captures his heart.
Maggie Delaney is finally enjoying a well-deserved holiday. As a child who lost her mother at an early age, she'd been bounced from one foster home to the next, and learned that the only person she could rely on was herself. Still, the offer of friendship from Suzanne, an acquaintance from back home whom she runs into while on tour in Zayrinia is welcomed. One of the tours Suzanne arranges ends up on a pleasure cruise, and Maggie finds herself in the cabin of a prince. Though nothing happens between them, it's still an odd experience, especially when Suzanne abruptly leaves the tour and the country. When Maggie uses Suzanne's ticket to go on a star gazing desert tour, things take a decided turn for the worse when she ends up kidnapped!
Sheikh Ilyas al-Razim can't believe that a waitress is trying to blackmail him with an encounter that took place with his younger brother, the prince. And when Maggie protests her innocence, Ilyas is reluctant to believe her. But the more he gets to know Maggie, the more he realizes that she is a true innocent. He's captivated by the English beauty and seduces her, but is up front that there can never be a real relationship between them. The obligations to his country mean he will marry for duty, not for love. While they share a passionate romance, the clock is ticking. Will Ilyas be able to let Maggie go?
The author gets high marks for the setting, from the dry sandy desert dunes and the Sheikh's luxurious tent to the palace and its grounds. Underneath the palace is a hammam (a spa), and also the Sheikh's harem. While Ilyas does not avail himself of the women there once Maggie is in the picture, it's clear that he's a man accustomed to sex. Maggie is very attracted to Ilyas and they share some sensual love scenes.
If there one thing I noticed, it's that the story doesn't have the ring of modernity that most Sheikh romances do that are written now. It could have easily been written in the 1980's or 1990's. I've found that most modern stories make an issue of improving women's rights in countries like this (fictional though they are) in keeping with the expectations of the current reading audience. In contrast, this one, with its prominent discussion of a harem, feels like it's stuck in an age that really doesn't (or shouldn't) exist anymore. Maggie is a smart and centered woman, and she is not interested in being Ilyas's mistress. Ilyas has to come to terms with what his future will be like without her in order to make the choices that lead to a happy ever after for them both. The end result is an enjoyable, if dated romance.

Book Info:

Publication: Nov 21, 2017 | Harlequin Presents | Ruthless Royal Sheikhs #1
His sinful desert seduction… Sheikh Ilyas al-Razim was born to be king. He won't let anything stand in his way, especially not the waitress daring to think she can blackmail him! It's his duty to protect his family's honor–even if it means taking impossibly stunning Maggie Delaney as his hostage… Beneath the starlit skies of Zayrinia's desert, defiant Maggie convinces Ilyas she is innocent of his accusations. No longer his prisoner, Maggie is free to return home…yet now she's held captive by their smoldering raw desire! Dare she surrender to the pleasure this desert prince promises?