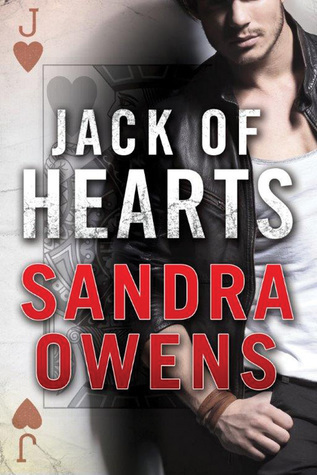 Jack of Hearts by Sandra Owens embarks on a new series which follows three brothers, who are undercover agents. This book revolves around the youngest brother, Alex.
Alex Gentry and his brothers own a biker bar as their cover, where bikers and criminals frequent. At the moment, they are building a case against the Alonzo family. Ramon's father is a drug lord who needs to be brought down and Ramon is just as bad as daddy. Alex pretends to be friends with Ramon to get close for information, but it's Ramon's cousin, Madison, who shakes things up.
Madison Parker is Alex's informant and the author makes it obvious how attracted they are to each other. For Madison, Alex is off limits. One, she has no idea he is an undercover agent, and two, Ramon is very possessive of her…and not in a good way. Madison owns a bookstore with her friend, but it's her uncle's money that helped open the store, which means whenever Ramon needs her, she'll be there. Madison's ties to her family make her vulnerable, but she's actually a very strong heroine, who stands up for herself and for what's right. It takes a strong person to stand up to an enemy, but an even stronger person, to stand up to family.
Unable to deny their chemistry for one another, Madison and Alex become closer. But what happens when Madison finds out Alex lied to her? Will his secrets cost him the one woman, who's captured his heart?
"Dammit, I'm in love with you. The things I said…"
"Were for my own good?
He let out a relieved breath. She understood. "Yes."
"Men are so stupid."
Does it matter if Alex lied to her, but had good intentions? The one thing, Madison can't gloss over is how safe Alex made her feel. There's just something about Alex that will make you love his character. He's the good guy, pretending to be the bad one. He's sexy, confident, protective, and a little bit cocky. All the makings of a brilliant Alpha male.
The cover of Jack of Hearts is perfect. It's the type of book you would proudly display on your bookshelf, because not only is the cover wonderful, so are the words inside. The suspense is done very well and once you get into the story, the pages fly by. I enjoyed the secrecy and forbidden aspect of Alex and Madison's relationship and can't wait to read the next book in the series. If you are a fan of this author or enjoy romantic suspense or just love your heroes to be swoon-worthy, Jack of Hearts is highly recommended.

Book Info:

 February 14th 2017 | Montlake Romance | Aces & Eights #1
Alex Gentry doesn't scare easily. Working as an undercover FBI agent in the biker bar he and his brothers co-own, he hangs with deadly criminals in order to gather information. Danger is just part of the family business. But one thing has him terrified: his attraction to Madison Parker.
Madison is the cousin of Ramon Alonzo, son and second in command to a notorious drug lord Alex is trying to bust. Alex has befriended Ramon as part of his cover, and Madison has unknowingly become his informant. Falling for her could risk this case—and both their lives.
All Madison wants is to get her new bookstore business off the ground, and for her creepy cousin Ramon—to whom she's unfortunately indebted—to leave her alone. If she could only stop fantasizing about his mysterious new friend, Alex…
As the Alonzo cartel investigation heats up, so does their relationship. But will the secrets they're keeping tear them apart—or get them both killed?