Just for the Summer by Jenna Rutland  is a beautiful and emotionally deep romance that will touch your heart.
Dani Sullivan has gone to Lake Bliss for the summer. Her excuse is to write her latest cookbook, but she is there for another reason too, to find and see if the baby she gave away eight years before is healthy and happy. She cannot regret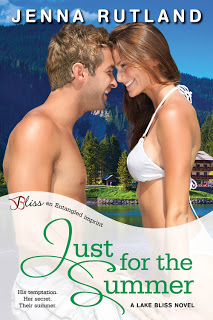 the decision she made when she gave her baby away, but that does not mean that she doesn't wonder if maybe she could have given her child a happy life herself.
All Matt Reagan cares about is his son's happiness. In the past that meant divorcing the woman he thought he loved until he found out about her lies and deception. Now all he want is to find a woman that will be happy to make a family with him and that will also love Sam.
Dani does not want to disturb her son's life or hurt him in any way, but she wants to make sure that the people who adopted him love him as much as she has loved him all this time. Her son may have been a result from her being raped, but she knew then that if she truly wanted her child to be happy, it would be better for him to be with a couple who would love him and care for him.
As she meets her son, without giving her true identity as his biological mother away, she can't help but want a little more time and memories that she can hold in her heart when she goes away after the summer. Even if Matt and Sam will not make things easy for her, as Matt starts courting her she becomes more attracted to the sheriff and closer to her son and Sam with his little boy charm and sweet love that he bestowes on his "friend" Dani.
As Dani and Matt fall in love they will grow closer as a family. But secrets can also bring pain and destruction, something that Dani will learn firsthand when she tells Matt the truth about her being Sam's mother.
Forgiveness and love will play a big role in Dani, Matt and Sam becoming real family. Something that may not be easy, but it's definitely doable.
Book Info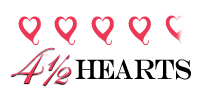 Publisher:
 Entangled: Bliss (March 11, 2013)
Lake Bliss #1
Dani Sullivan has come to Lake Bliss to write her latest cookbook and take a breather. After the year she's had, she deserves a summer retreat to reevaluate priorities and make peace with past decisions. But from the moment single dad and sheriff Matt Reagan shows up, she has a hard time convincing herself that a life away from Lake Bliss could beat the life she might have here.
Recently divorced Matt is ready for a new relationship, but he doesn't want short-term—his son needs permanence, and so does Matt's heart. Unfortunately, it's the smart-mouthed and sinfully sexy Ms. Sullivan who catches his eye. But when Matt learns Dani's secrets, will he still want her to stay? Or will her chance for love last just for the summer?