In Just My Luck by Kelley Vitollo, Betsy Harris has been half in love with her boss and friend Jace Macnamara for as long as she has known him. But because he is her close friend and her boss he is off-limits and forbidden. Not only that, her shy nature and the way that her mother raised her would not even let her admit her attraction to him or any other male for that matter.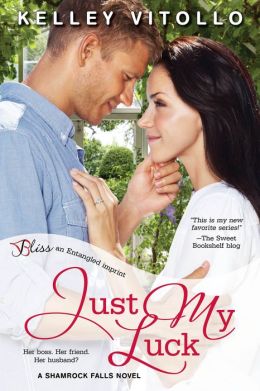 Jace has always knows that the family home, which belonged to his late mother, would be his when his grandfather died. To his utter surprise he learns that his grandfather has required in his will for him to marry within a month and remain married for six full months in order for him to get his own home. If not his home goes to his grandfather's wife.
Now Jace knows that he must find a wife, but one that he can trust and will not drive him insane within the six-months period. Unfortunately not many fit that bill, until he learns that Betsy is having problems with money and she won't ask for his help. He trusts her and can spend a lot of time with her without going crazy. And from there the crazy idea is born, to ask her to marry him, with the condition that it is only temporary and she will receive a good compensation for her help.
They may be giving everyone a fake story about their relationship. But things will not be easy to keep fake though, because all of a sudden Jace starts seeing the beauty that Betsy has been hiding behind all her drab clothes and he wants to make his marriage very real in every sense during those six months. While Betsy's insecurities will not be easily overcome, she will not take for granted the chance at living the life she has dreamed about for so long.
But secrets cannot stay hidden for long, and Betsy's secret about her mother will come to light sooner than she wants. Leading to a fight and the possible ending of her marriage. Jace will have a lot of work to do to prove to Betsy that she was not just another woman in his bed, but the last and only woman he wants to be there for the rest of his life.
Wow, I absolutely loved this story. I have been waiting since Lucky break to see how shy Betsy would get her man, playboy Jace. The back story of how Betsy was raised is emotionally deep, and the fact that she still grew up to be as confident as she did proves how much inner strength she has. And Jace, wow, his story also explains why he won't commit to any woman. Of course only the woman that could reach inside him, emotionally and mentally, could make him open up to her and would be the one to win his heart and love.
If you haven't read Shamrock Falls series, don't forget to get the other two so you can understand a little more of the previous character who also make an appearance here. But make sure that you definitely don't miss this one for it will take you on an emotional ride.
Book Info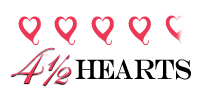 Publisher: Entangled: Bliss (June 10, 2013)
Her friend. Her boss. Her husband?
Betsy Harris has always known Jace Macnamara was off-limits. Not only is he a close friend, he also happens to be her boss—making him doubly forbidden. Betsy's too timid to ever admit her crush, nor 'fess up to the fact that she's secretly drowning in her mother's medical bills.
Jace just found out he needs a wife and needs one now. His childhood home—the last reminder he has of his deceased parents—can only become his if he gets married, but Jace, ever the playboy, never dreamed of settling down for real. Neither Betsy nor Jace wants to ruin their friendship when their fake marriage inevitably ends, so they vow to keep things light, professional, easy. But as Betsy comes out of her shell, Jace begins to see his "wife" for the beautiful, caring woman she is. Can he risk their past for a future together?