In Branded by a Callahan by Tina Leonard, Dante Callahan does not have 'marriage' anywhere in his near-future plans. But no matter how long he has been in the rodeo running from his attraction to Ana, he can't run anymore. He has to return to the family and continue supporting and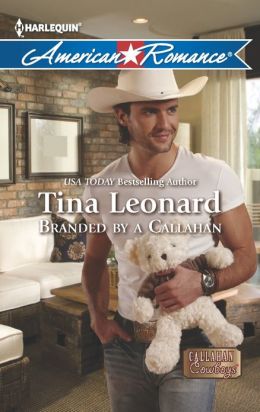 helping them in their mission to keep the family together and safe from the threat that follows them.
Ana St. John has been attracted to Dante since the first time she met him, but she cannot act on it. She may not be directly employed by him, but she is nanny and bodyguard to his nephews and technically employed by his family. But he is the man that she wants to father her child. She knows that the chances are slim of her getting pregnant regardless, but he is the only one that has the qualities she is looking for.
Things will not be easy for either of them though, no because neither one of them wants to accept their attraction out in the open and neither wants to get hurt or humiliated. One of them will have to take the risk, unfortunately it seems that the kidnappers and people out to hurt the family seem to be always in the wrong place and at the wrong time interrupting them. Also there is a magical wedding dress that will disappear into thin air and only when these two decide to give each a true chance without doubt in their minds or hearts, will it show itself again. But before all that can happen, they will have to face danger, lust and a lot of meddling from Dante's aunt Fiona.
If you want a read with some fun, intrigue, mystery and lots of hot looks but a frustrated hero, don't miss Branded by a Callahan by Tina Leonard.
Book Info
Publication Date: July 1, 2013 | Series: Harlequin American Romance (Book 1457)
Settle Down, Cowboy!
Marriage isn't in Dante Callahan's short-term plans. But Ana St. John is! After the gorgeous nanny bodyguard—and woman of his fantasies—turns the tables and seduces him, Dante is suddenly corralling his inner wild man. Now Ana is having his baby…and refusing to say "I do!"
There's no denying Ana's powerful feelings for Dante. But is the footloose rancher—and the hottest cowboy in New Mexico—ready to hang up his spurs for married life? According to the legend of the magic wedding dress, he's not.
Dante's not one to fool with family lore. But he's got to provide a major Cinderella moment to win over his prospective bride. He may be crazy for pulling out all the stops to get Ana to marry him—but that's part of the fun of being a Callahan!