Just One Spark (Just One… #1) by Jenna Bayley-Burke: This book began with an intriguing first chapter that captured my immediate attention. Meticulous and well organized Hannah Daniels, does not have a washer and dryer in her apartment. So once a week or so she can be found in the nearby laundromat, sitting on a working washing machine reading an erotic novel, while she waits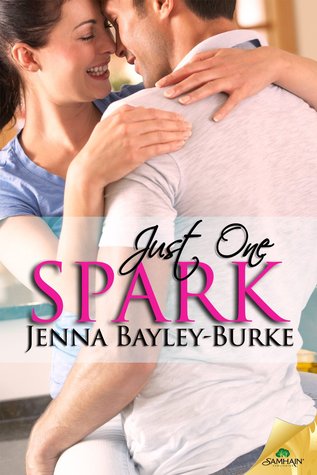 for her clothes to dry. Since Hannah is so busy at work, getting aroused by a little washing machine action and some erotica is all she seems to have time for.
On this particular day, a good-looking guy walks into the laundromat, strikes up a conversation with Hannah, and tries to pick her up. Although Hannah feels a spark, she turns him down cold once she notices his wedding ring. It so happens that Mason McNally is not married, he is just helping his psychoanalyst of a brother with his never ending psychological research on social behavior. Mason feels the spark as well and does everything in his power to locate Hannah after their interaction. Once Mason finds her, they begin seeing each other and finding their happily ever after.
I liked Hannah a lot. Due to a extremely traditional and rigid upbringing, she is chock-full of insecurities. Her parents are unable to fathom why she devotes so much time to her career, instead of finding a husband and having a family. They believe her job managing a multimillion dollar department store is unimportant and "just a job at the mall." Finding someone to love is an entirely different insecurity, since Hannah's last relationship was with a married man, and she did not know about his deception for over a year. Although Hannah is smart, enjoys good sex and reads four erotic novels a month, her love life is non-existent. She is very easy to relate to.
Mason is a firefighter from a large family, and love at first sight is certainly a believable occurrence as far as he and his family are concerned. I found Mason to be a little creepy and his devotion to Hannah to be a bit unsettling at first. However, he knew immediately that Hannah was the one for him and he did everything possible to win her heart. His parents set good examples for both him and his siblings to follow.
Overall, the story was bumpy and lacked continuity between some scenes and chapters. As a result, the pace did not flow and I felt lost at times. Mason's actions rubbed me the wrong way throughout most of this book, and I never felt his protectiveness that the author was trying to bring about. Hannah's brother-in-law was also a little odd. The sex scenes were hot, but lacked an emotional connection. This is a passable read with some suspenseful moments and an interesting couple.
Book Info: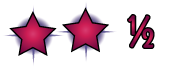 Publication: October 7th 2014 by Samhain Publishing | (Just One… #1)
Hannah Daniels reads steamy romance novels so she can forget her lack of a personal life and the fact that the one time in her life she took a risk on love, her heart was left in pieces. Her busy schedule means she reads whenever she can make time. Like at the laundromat while sitting on top of a washing machine.
Mason McNally has waited his whole life for a woman who stirs his soul. When he finds her, she s nose-deep in a racy paperback, perched atop a vibrating washing machine. Her beauty, boldness and raw sensuality definitely stir something in Mason. But there s a problem. He s forgotten he s wearing a wedding ring.
No amount of hasty explanations that it s for his brother s psychology experiment keeps her from disappearing. Now he s consumed with finding her again and convincing her that her first impression was wrong, and their spark of attraction is oh so right.