Just Say Yes by Elizabeth Hayley: Quinn works for a magazine and can't wait for the day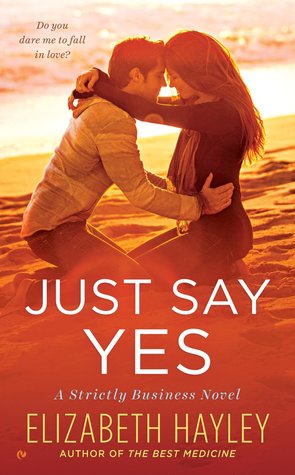 when she actually gets to write something. While in a staff meeting, Quinn impulsively suggests a column focusing on doing new and different things and then is assigned to write about it. She is the quintessential good girl: she lives to please her parents and has always done what's expected of her. Writing this column will give her the opportunity to break outside of her comfort zone, which she longs to do.
Tim has lived a life filled with regrets. He's made a number of mistakes and now he's making sure that he doesn't disappoint his brother again. He turned his life around, but he also knows that he's not good enough for the more innocent Quinn. He wants her, but he's determined to keep his distance. When Quinn reveals the idea for her column, Tim is right there encouraging and supporting her.
"Everything we do, we do together. I would never let you get hurt, Quinn."
Quinn's posture seemed to soften slightly, but she still looked unsure.
"Stop thinking so much, Quinn." Tim put his arms on the table and leaned toward her. "Just say yes."
Quinn loves the idea of doing new things, but in reality she needs Tim to help her take that first step. They go together on this journey for Quinn's self-discovery. Along the way, they find that they love spending time together. It becomes harder and harder to maintain a friends only relationship when both want more.
"You sure you don't want me to drive?" Tim asked.
"Yes. You don't even know where we're going."
Tim raised his eyebrows at her. "That's the point. Then you'd have to tell me."
"Just shut up and get in."
They can't ignore their chemistry or the fact that it's more than just lust. They have led very different lives, but they complement each other really well. Quinn grounds Tim and he helps her break out of her shell. Before they know it, Quinn reaches the end of her list.
Just Say Yes is an endearing friends to lovers romance. Just Say Yes can be read as a standalone. Elizabeth Hayley provides an entertaining relationship between Quinn and Tim with plenty of banter. Ms. Hayley also includes an interesting cast of secondary characters in their friends and family. Fans of Make Me by Tessa Bailey will enjoy Just Say Yes.
Book Info:

Publication: December 1st 2015 | Signet | Strictly Business #2
From the author of The Best Medicine comes the latest Strictly Business novel—and this time, for one woman, finding the ideal man can be a pretty tall order…
Magazine columnist Quinn Sawyer has always attracted sweet, innocent, and safe men. And something tells her it's because she's just as harmless. So when she starts craving a guy with an edge, she realizes she may have to get one for herself.
When her boss asks for a unique pitch, Quinn's quest to live outside her comfort zone prompts her to suggest an idea that will cause her to break her good-girl rules. And who better than Tim Jacobs to help her push her boundaries? For a while now, Quinn's had a hot crush on the tattooed executive chef with a checkered past. If anybody can bring out her inner rebel, he can.
It's no surprise that with every task the two complete, the sparks between them grow more and more intense. Soon there's no denying the attraction they each feel. But Tim's troubled past reveals an even tougher edge than Quinn expected—which means for her, falling in love might just be the greatest rebellion of all.