Just This Once by Mira Lyn Kelly: Molly is smart, independent, stubborn, and unique. She's a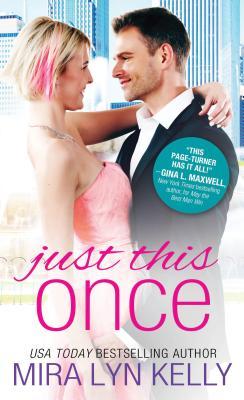 loyal friend and sister who is always willing to tell it like it is. She craves stability and security, which is why she owns a housekeeping business, runs a web design service, and manages the bar at a restaurant. She's part of a fun group of tight-knit friends where it seems like everyone is falling in love and getting married.
Sean is smart, sexy, successful, and charming. He's used to getting his own way and created his own family with his group of friends. He grew up privileged and that colored his beliefs in what he was looking for in a relationship. When he's not dating the perfectly pedigreed partner, he's a bit of a playboy.
Molly and Sean have been best friends since Sean made it his mission to see her smile and laugh. They are as close as two people can be. They banter, laugh, and enjoy playing tricks on each other when warranted. When Sean crosses the line and moves in with her, Molly makes it her mission to force him out. Sean's protective side definitely clashes with her stubbornness, which takes a turn neither expected.
Molly: Nicely played.
A minute later she had his response.
Sean: You didn't really think I was going to let you run me out without a fight.
No, she knew him too well to think he wouldn't take this as a challenge.
Molly: Doesn't matter. You're still going.
Molly has always had a crush on Sean, but she long ago gave up hope of her feelings being reciprocated. Between Sean's recent disillusionment with familial expectations and their living situation, the usual lines have blurred. Neither want to risk their friendship, but they can't put a lid on their sizzling attraction before or after they cross that line. They have to figure it all out and try to maintain their friendship.
Just This Once is a sexy and entertaining friends to lovers story with plenty of drama. Mira Lyn Kelly created a hilarious and overly curious group of friends you'd love to meet. Ms. Kelly provided tension, anticipation, romance, conflict, friends, and family. Fans of Melissa Foster and Christina Lauren will enjoy Just This Once.

Book Info:

Publication: October 2nd 2018 | Sourcebooks Casablanca | The Wedding Date #3
He can't have her.
So he moves in with her…
What could possibly go wrong?
As heir to a chain of luxury hotels, Sean Wyse III always gets what he wants. So when he sees a freeloading roommate taking advantage of his spunky best friend, Molly Brandt, he doesn't hesitate to step in. He kicks out the roommate…and moves himself in.
Molly loves quality time with Sean, but spending nights with him one wall away threatens to wake the crush she thought she'd gotten over. A crush Sean knows nothing about, which might be a problem…considering how hard Sean's been working never to think of Molly that way.