Keeping Score by Sara Rider is fun, fresh, and has enough sweet and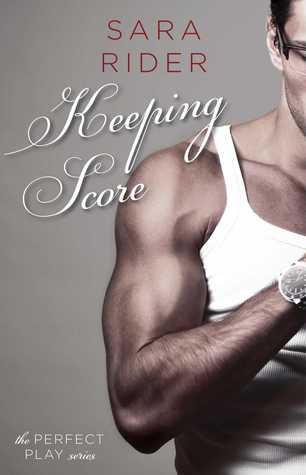 steamy moments to make any romance lover satisfied. We don't see many sports romances starring a female athlete but Keeping Score has exactly that.
Jaime Chen is a professional soccer player. When a persistent injury keeps plaguing her, the team's physiotherapist won't leave her alone. All Jaime wants to do is play soccer but Alex Martinez has other ideas.
Alex needs to figure out what is wrong with Jamie, his job is depending on it. Even though Jaime evades him at every chance she gets, the fiery beauty isn't getting past him. Alex makes himself Jaime's new shadow and doesn't rest until she agrees to let him look at her ankle. What he doesn't count on is his fierce attraction to Jaime.
"Fighting his attraction to Jaime was like trying to crawl his way out of quicksand."
One touch is all it takes for him to fall, but he's hiding a secret that will change everything.
I really loved both characters. Jaime is tough, strong, and very talented. Even though her injury should sideline her, she shakes it off and continues to play. Readers also get to see a more vulnerable side to Jaime as we hear about her sister and the lack of support from her parents. Jaime's had a tough life but she doesn't let her down, in fact, it only motivates her to be the best. As for Alex, he's such a great hero! There is more to him than people see. He's great at his job, supports the team a hundred percent, and really cares about his patients and you really see this when his secret comes out. Readers will fall in love with both characters, easily!
Keeping Score is filled with diverse characters, intense chemistry, an engaging storyline, and highly entertaining dialogue. For those readers who enjoy contemporary romances and/or sport romances, this one is for you!

Book Info:

Publication: November 7th 2016 | Pocket Star | The Perfect Play #2
Professional soccer player Jaime Chen is used to hearing the word "no"—she's just not used to listening to it. Despite her tiny frame, she's won two Olympic medals and earned the title of Assistant Captain of the Seattle Falcons. And when Sport Fitness magazine decides it wants her for the cover of its annual Bodies of Sport issue, she finally has the chance to prove to the world that she truly is a top-class athlete. But when a lingering ankle injury forces the team's physiotherapist to bench her, Jaime's top-ranking dreams start to slip through her fingers.
In his career as a pro sports physiotherapist, Alex Martinez's instincts have never steered him wrong. But he's also never met someone as obstinate and frustrating as the snarky Jaime Chen. With their spot in the playoffs on the line, the Falcons' owner gives him an ultimatum: get Jaime back in the game or kiss his job goodbye. When she skips yet another appointment with him, the only way he can wrangle a diagnosis from the medically-phobic midfielder is to stick to her like a shadow. But getting close to the woman who simultaneously irritates him and turns him on like no other is the last thing he wants to do.