King's Price by Jackie Ashenden is the first steamy story in her new series Kings of Sydney. It's about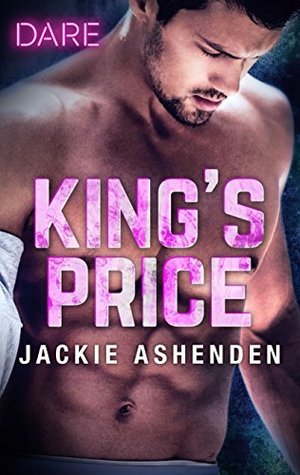 brothers who have inherited a business that used to be mob run (by their father) and that they've taken pains to make legitimate. Part of re-inventing their image involves getting into the right circles and Leon King knows just the way to do it – blackmail! (Okay, so maybe going fully legit will take some time).
Leon has the goods on wealthy philanthropist Thomas Hamilton. He has gambling debts that Leon can pay off, in return for Hamilton's daughter's hand in marriage. Hamilton can then introduce his new son- in- law to his associates and their deal will be sealed. While he thinks he's going to get curvy blonde bombshell Clara, in fact, Hamilton has another daughter, and she becomes the fiancee in question.
Vita Hamilton is nothing like her sister, in looks or temperament. When her father comes to her about the marriage, Vita doesn't feel she can refuse. Vita had a terrible experience as a teenager when her boyfriend at the time filmed them having sex then put it online and made fun of her. It caused problems for her and her family (not to mention made her leery of ever trusting men again). Doing this might be a way to pay back her family for the public fallout so she agrees – but goes about it her own way. Her father wants her to keep quiet and not see Leon until the wedding so he doesn't know about the switch until it's too late but Vita goes to Leon and tells him that she's going to be his bride.
Leon is fascinated by Vita and decides that he doesn't care who his new wife is for what should be a short lived marriage. He wants them to be seen in public as an affectionate, dating couple to explain their upcoming whirlwind marriage. At the same time, giving Vita control over their public relationship will go a long way to helping her take back her image. Along the way the sexual chemistry between them burns up the sheets and they start to get emotionally involved. Leon's plans for the future aren't supposed to include a real marriage. Will what he's found with Vita change his mind?
I loved the start of this new series! I particularly enjoyed seeing Vita, a strong, smart woman regain control of her reputation with Leon's advice and encouragement. The unauthorized video of her was a traumatic time in her life and the humiliation she felt over it made her stay as far away as possible from the public eye. That won't be possible anymore if she's engaged to Leon, so he suggests that she make it appear that she's got him wrapped around her little finger to show that she's not bothered anymore by what happened in her past. She does a convincing job and Leon soon finds himself in over his head.
I also loved seeing Vita stand up for herself in front of her father who has pushed her around for far too long. And it never hurts to have a protective hero by her side, the kind who knows when to stay in the background and let her strength show for itself, or to make his presence known. That kind of support is new to Vita, and essential to her growing feelings for Leon.
Leon is the type of hero Jackie Ashenden excels at writing, the ones who straddle the line between good guy and bad guy. Leon has a past as an enforcer for his father but he's as keen as his brothers on making their company a legitimate and financially successful one. He's sinfully attractive of course, a fact which is not lost on Vita. Leon has gone through his own trauma, having been kidnapped and tortured as a teenager by associates of his father. As a result he tends to share little of his personal life with women, but Vita is different. She is able to get him to confide in her.
Leon is able to make Vita come out of her sexual shell so to speak, and treats her with respect, always making sure he has her full consent for anything they do. When Vita shows Leon just how much she trusts him, Leon realizes that he isn't going to want to end things so quickly. Both of them have to be willing to take a risk on something more and there is a lovely happy ending for the couple. I'm looking forward to reading more of this sexy series!
Book Info:

Publication: Oct 01, 2018 | Harlequin Dare | Kings of Sydney #1
His marriage deal… Her sexual awakening!
Unscrupulous businessman Leon King is going legit. A calculated marriage to the daughter of a wealthy Sydney philanthropist could help redeem his family's reputation. But Vita Hamilton has her own scandal to shake: a decade-old sex tape that still haunts her. Getting emotionally involved with Vita will cost Leon dearly. With their intense sexual connection, is it a price this King is willing to pay?