In Kiss Me, Cowboy (Montana Born Rodeo #3) by Melissa McClone, Charlie has worked hard to fit in as a wrangler at the Bar V5 Dude Ranch. She loves her job…but she also loves Zack.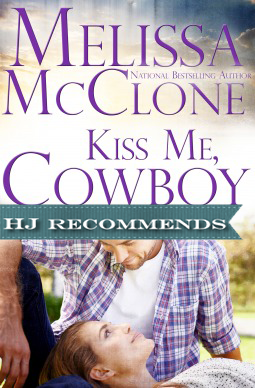 Zack is former military now working as a wrangler alongside Charlie. He's got ghosts of his own that haunt him and has no desire to be in a relationship with anyone. No matter how much he's attracted to Charlie. He has his 'family' on the ranch and will do anything to protect that family he's made for himself, even if it means not getting involved romantically with anyone he works with.
The one kiss Charlie gives Zack on a night he desperately needed comforting only makes her want him more. A year has passed and she can't stop thinking about him or dreaming of being with him. She thinks Zack is oblivious to her, but he's not. He just knows he's not perfect, and he thinks she deserves better. Charlie wants him anyway…
But Charlie can't go on with this, being around Zack and loving him, with him denying them a chance. With changes at the Bar V5 happening, Charlie is going to have to make some decisions about what she wants and how long she'll wait. Zack might have waited to long, and Charlie might be ready to move on.
Kiss Me, Cowboy is a real up and down emotional romance! Charlie is independent, and underneath the wrangler is a cowgirl dying to get loose and be herself. I admired Charlie for what she's done and her inner strength. Her infatuation with Zack that lasted a whole year seems like a long time to secretly covet someone once you're all grown up…and I was glad when she finally admitted to her feelings, despite the risks to her heart she was taking. Zack exudes strength and cowboy hotness…but he's hiding a tortured soul. He was a bit hot and cold at times with Charlie though, which only confused her more. I saw a lot of growth in both of these characters through out Kiss Me, Cowboy, especially in Zack. I would love a follow up with these two!
I love the ranch setting and Melissa did a fantastic job of taking me there with her descriptive writing. The secondary characters round out the story well without overwhelming and taking away from Charlie and Zack.
Kiss Me, Cowboy is well paced with believable characters whose world you can easily fall into. Kiss Me, Cowboy can easily be read as a stand alone, but the previous Montana Born Rodeo books are just as enjoyable. I'd recommend Kiss Me, Cowboy to any romance reader looking for a quick, sweet romance with a western flare!
Book Info:

Published September 7th 2014 by Tule Publishing
She didn't mean to kiss him…
When dude ranch wrangler Charlotte – aka Charlie – Randall kisses Zack Harris in an act of empathy, she falls hat over spurs for the handsome military veteran turned cowboy. Zack has too many demons, however, and refuses to get involved. A year later, he's still stonewalling, and Charlie needs to move on with her life so she can find a fulfilling relationship, not frustrating unrequited love. Putting distance between them seems the best way to get Zack out of her head and heart…but that means quitting the job she loves and accepting a position in Colorado.
He didn't mean to kiss her back…
Growing up, Zack longed for a real family, and had one with his squad while deployed in Afghanistan. Now, he's back in the States and doesn't want anything messing up his new ranch family, no matter how much he's attracted to the sexy, hard-working Charlie. She could break his heart and ruin the comfortable working relationship they and the other wranglers enjoy. Besides, her friends claim she's looking for the perfect guy, and perfect he's not.
A kiss is just a kiss…or is it?
When Zack learns Charlie's thinking about leaving the ranch, he decides to find her a boyfriend — someone so good, so perfect, she has a reason to stay in Montana. Until he realizes too late that the only cowboy he wants her kissing is him. Can he commit to love and convince Charlie not to leave? Or has she made up her mind to put the past, and the kiss that started it all, behind her and move on without him?