In Kiss Me Like This (The Morrisons #1) by Bella Andre, Pain and grief has been hanging over Sean Morrison's life for the past few months since his family suffered a great loss. He's tried drowning himself in alcohol to numb the pain and he's thrown himself into his baseball practice and studies at Standford University, but nothing makes it better. Until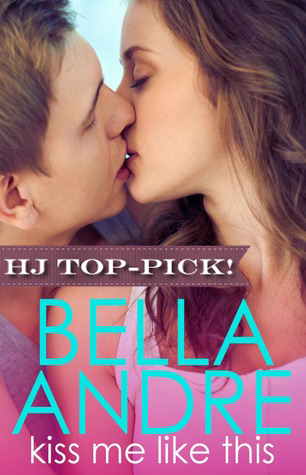 Sean spots the most angelic, beautiful girl he's ever seen at a frat party. That night changes the course of his life forever.
'Losing someone he loved again was his worst fear. But how could he have stopped himself from loving Serena?'
Serena Britten may be a supermodel, but she's smarter and more caring than anyone Sean has ever known. He's instantly smitten with his book-loving world traveler and knows he needs to take things slow. With paparazzi stalking them and her previous work commitments interfering, Sean will do anything to keep Serena in his life, making sure she is safe and happy.
"Please don't stop with just a kiss today. Not when I need you so badly. Not when I need to know that we're still real and that nothing has changed because both of us are sorry and both of us are forgiven, too."
Supermodel Serena Britten has had a love affair with books since she was very young and has dreamed of making a career out of it. But her mother, Genevieve, has always pushed her to be a model and actress. Now, for the first time in nineteen years, Serena stood up to her mother by enrolling at Stanford University, leaving her modeling career behind. With no one to support her, she focuses on her studies to prove she can succeed. When Serena meets Sean Morrison at her first frat party, she wonders how she will ever be able to focus on anything else ever again. He takes her breath away and shows her a sense of normalcy she's never had. But her old life is never far behind and threatens to take away the new happiness she's worked so hard to achieve.
'She'd never known it could be like this, that passion and desire and deep emotions could be tempered so perfectly with such ease and with friendship. The truest friendship she'd ever known.'
I have been waiting to sink into Bella Andre's first New Adult novel, Kiss Me Like This, since I first heard about The Morrisons series. And it was SO worth the wait!!
If you're already a fan of Ms. Andre's writing like myself, you know how emotionally intense her books are, which ties in perfectly with the New Adult genre. I've followed her Sullivans series all the way through and found that the same elements that worked for those stories worked here as well: the dialogue is exceedingly realistic and raw, and the love scenes are filled with so much passion that it's easy to get swept along as well. With Serena & Sean we are lucky enough to get a glimpse into the first moments of their budding romance when they begin to trust each other, and where they build the foundation that will direct where their relationship is headed in the future.
The Morrisons are a large family, similar to the Sullivans, with six siblings altogether, so we get to see how they all interact and share in the events in each others lives. In this introduction to the family, they were all grieving over the loss of their mother three months prior, which influenced Sean's emotions greatly. Serena was so caring and understanding of what he was going through, giving him time to process his feelings. And I loved that Sean was equally patient with Serena while she got used to the idea of dating now that she was on her own for the first time in her life. That sense of freedom she felt in trying new college experiences and falling for a great guy was so wonderful to experience along with her, and I felt like I was right there with her feeling all those emotions too.
I think Kiss Me Like This is a love story that will speak to fans across all the romance genres. There's nothing like reading about that first true love…especially when done in such an eloquent and heartfelt manner.
Book Info:

Published June 11th 2014
Sean Morrison, one of six siblings and the top college baseball player in the country, is reeling from a heartbreakingly painful loss. Nothing seems to matter anymore…until the night Serena Britten unexpectedly ends up in his arms.
Serena is a world-famous model who has only ever wanted to be normal, even though her mother has always pushed her to become a superstar. Though it isn't easy to try to leave everyone and everything she knows behind, Serena is determined to enroll in college. More than anything, she wants to turn her love for books into a new career that she actually loves. Only, she never expected to meet someone like Sean on campus—or to be instantly consumed by their incredible chemistry and connection.
But when the pressures of her high-profile modeling career only get bigger and more demanding, will it make living a normal life as a college student—and falling in love with the hottest guy on campus—impossible?