Last Chance Christmas by Joanne Rock is a charming read that deals with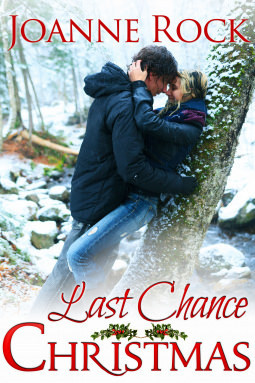 making amends and letting go of the past. It's a pleasing story about second chances and finally coming home to the person who you're meant to be with. People come into our lives at different times and even though you love someone, it doesn't mean it's the right time to be with them.
Shea and J.C. are two people who fell in love early on in life. Only, college and their choice of careers took them in opposite directions. J.C. is now divorced and back home healing from a concussion. The hockey star is waiting for his trainer to medically clear him to get back on the road. Shea's life is at a roadblock. Her company is going bankrupt, leaving her position with the company nonexistent, so she decides to head home to see her family. Only to find out her family left for the holidays and the only person around that help her is J.C.
I really enjoyed this story and LOVED how it ended. J.C. definitely should win some awards in the Christmas present department! The only thing I didn't like was Shea's relationship with her father. I thought her father was selfish, only caring about his wants and was unfair to Shea. He seriously needs to remove that hockey stick from his butt and grow up. Other than that, this story is lovely.
If you enjoy second chance romances this is a good read for you!
Book Info:

Publication: November 11th, 2015 | Tule Publishing |
Fashion buyer Shea Walker had a fast track lifestyle until a car accident sidelines her to a painful recovery. Seeking quiet for the holidays, Shea returns to the snowy mountains where she grew up to make peace with her past and spend time with her estranged family. She never expected J.C. Royce–now a hockey star–would return to their hometown, too. Determined to avoid that particular sexy mistake, she's caught off guard when her first night in town brings them face to face.
Seeing Shea practically fall at his feet is gratifying, until J.C. realizes his proud former friend, who he once thought would become a whole lot more, is truly hurt–and in more ways than she lets on. Lucky for Shea, he's got a big house just sitting empty and a tree ready to decorate, as she is in no shape to stay by herself. With his bad boy arrogance down to an art form after eight years in the NHL, J.C. is more than a match for feisty Shea. Especially when it comes to her outrageous claim that there was never any chemistry between them…
But when it comes to convincing her to stick around town until the New Year, he
just might need a Christmas miracle.